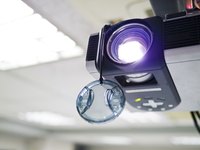 When sales staff hype a television, you hear about high resolutions for HD movies and sports. With projectors, chances are you'll display low-key documents like spreadsheets and charts, so you don't need high resolution. Older standards are often sufficient. The terms Super Video Graphics Array and Extended Graphics Array -- SVGA and XGA -- derive from terminology used in the late 1980s and early 1990s to describe the resolution of a computer monitor and the support a computer had for such resolutions. The difference between the two standards is straightforward: XGA projectors display at a higher resolution than SVGA projectors.
Terminology History
Common resolutions in the 1980s, in increasing number of pixels, were CGA, EGA and VGA. The next two in the sequence were SVGA and XGA. Digital projectors adopted these resolutions; the idea was that computer images generated for a monitor could fit a digital projector without the need for resizing.
Resolution Details
An SVGA projector supports video at a resolution of 800 by 600 pixels. An XGA projector supports video at 1024 by 768 pixels. Both of these are ratios of 4:3, like older televisions, so any widescreen footage is cropped, stretched or displayed with bars, depending on your projector, source and chosen configuration settings.