Pneumonia is an inflammation of the lungs. Bacteria or viruses in most cases cause the inflammation. A fungal infection or parasites can also result in pneumonia. Back pain is a common symptom of pneumonia and can be easily mistaken for back strain. Pneumonia is a potentially life-threatening condition for those over the age of 65 and must be treated as soon as possible.
Causes
There are two categories of pneumonia, infective and aspiration. Infective pneumonia is the result of an infection of the bronchial tubes and lungs that is caused by bacteria that infect the lungs and begin to grow. Aspiration pneumonia is caused by breathing in infected mucous or in some cases chemicals. The back pain of pneumonia occurs when the lungs become inflamed and painful on breathing. The pain can also be felt in the chest with pneumonia.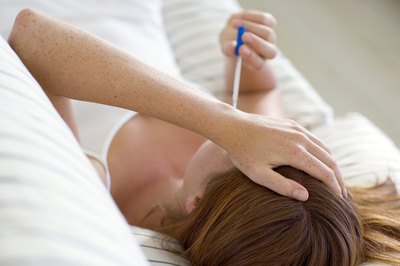 Diagnosis
Pneumonia might not immediately be diagnosed when back pain is the only symptom. The doctor will determine if chest X-rays are necessary based on the description of the pain. Pneumonia patients describe the back pain as occurring when breathing deeply. Chest X-rays are used to visually see the pneumonia infection and determine the extent of the condition. Blood tests determine the type of virus that is causing the pneumonia.
Treatment
Treatment for pneumonia will reduce the inflammation and eliminate the back pain. For bacterial pneumonia, doctors prescribe antibiotics. Anti-viral medications treat viral pneumonia. Over-the-counter medications manage the back pain of pneumonia before antibiotics or anti-viral medications begin to eliminate the inflammation.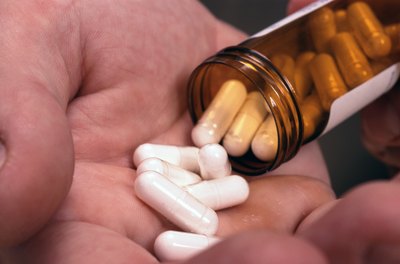 Prevention
Wash your hands to protect yourself from becoming infected with the bacteria that causes pneumonia with back pain. A healthy diet and rest keep your immune system in good condition to fight off bacteria and viruses that cause pneumonia.
The flu can lead to viral and bacterial pneumonia. A flu shot may prevent the flu and subsequent pneumonia from occurring.
Complications
Pneumonia can lead to serious complications such as bacteria in the bloodstream and infection around your lungs. These serious complications can result in hospitalization and intravenous antibiotic treatment.
Acute respiratory distress syndrome occurs when a large area of the lungs is infected. This causes the body to become oxygen deprived. Hospitalization is necessary for this life-threatening complication of pneumonia.