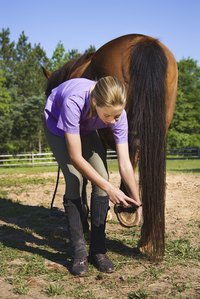 Navicular disease, caudal heel pain syndrome and navicular syndrome are all terms that describe an assortment of conditions that affect the navicular bone and related structures within your horse's hooves. The primary symptom of navicular syndrome is lameness in one leg or more. Navicular syndrome is not curable, but you can manage the condition with proper care.
Understanding Navicular Syndrome
Navicular syndrome is a degenerative condition that affects the internal structures of your horse's heel on one or both front feet. The navicular bone is located at the back of the heel. The deep digital flexor tendon that runs down your horse's leg travels underneath the navicular bone and anchors on the coffin bone. The navicular bone provides a smooth, gliding surface for the area where the digital flexor tendon changes angles.
Navicular syndrome occurs when pain-causing changes take place within the navicular bone, coffin bone, navicular bursa, tendons or ligaments located in the heel. The precise cause of navicular syndrome varies, though symptoms can be brought on by stress, genetics or traumatic injury.
Navicular Lameness
Lameness is the primary symptom shown by horses suffering from navicular syndrome. The lameness can be fairly mild at first, with owners noticing a slight offness or very minor limp. The condition tends to gradually progress to the point where the horse displays a significant limp, has difficulty getting around and may even experience pain while standing.
Horses with navicular syndrome usually try to avoid putting weight on the hoof that is causing them the most pain. This sometimes makes them appear to be lame in only one leg. You may notice your horse standing in a pointed position, with one front leg held slightly in front of the other front leg. The leg held in front will be bearing little to no weight. The affected horse may display a short, stiff-strided gait when asked to walk, trot and canter. The change in gait will be especially evident when the horse is asked to travel in a tight circle.
Diagnosing Navicular Syndrome
Horses tend to develop navicular syndrome when they are between 7 and 14 years old. All breeds can develop this condition, but it is most prevalent in stock-type horses such as the American quarter horse and closely related breeds.
Navicular syndrome is diagnosed via a combination of methods. Your veterinarian will observe your horse's movements, perform basic physical lameness tests on the horse and consider his history of lameness to determine if navicular syndrome could be responsible for your horse's discomfort. If your veterinarian believes your horse may have navicular syndrome, he will perform additional lameness testing using nerve blocks as well as X-rays and radiographs of the hoof area.
Treating Navicular Syndrome
Corrective shoeing is a common means of improve the performance and comfort level of a horse with navicular syndrome. If high-quality farrier care does not improve your horse's condition substantially, your veterinarian may prescribe medication or injections to alleviate pain. In severe cases, navicular horses can be de-nerved. This surgery eliminates lameness by preventing the horse from feeling the pain that navicular syndrome causes.