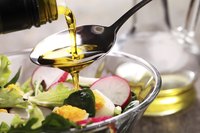 Omega-6 fatty acids sometimes get a bad rap, but these are essential fatty acids critical to optimal body functioning and growth. Essential fatty acids, such as omega-3s and omega-6s, cannot be produced by your body but support a healthy brain and play a role in bone health. They're also crucial to metabolism regulation, skin and hair growth, and maintenance of the reproductive system. Getting too much omega-6 fatty acids may promote inflammation, but when consumed in an appropriate ratio to omega-3s, they're absolutely beneficial.
The Right Ratios
If you consume a typical American diet, you get between 15 and 17 times more omega-6 fatty acids than omega-3 fatty acids, explains a paper published in Biomedicine and Pharmacotherapy in 2002. The University of Maryland Medical Center suggests the ratio in the Western diet may even be higher -- a 25-1 ratio of omega-6 to omega-3 fats. Ideally, you should consume a balanced ratio of about 1-to-1.
Improvements in the ratio of omega-6 to omega-3 in your diet could help reduce inflammation and disease risk factors. The 2002 paper went on to note that a 4-1 omega-6 to omega-3 ratio correlates with a 70 percent decrease in total mortality in cardiovascular disease, while a 2.5-1 ratio reduced cancer cell growth in patients with colorectal cancer and a 2-1 or 3-1 ratio helped relieve inflammation in patients with rheumatoid arthritis.
Oily Sources
Most of the omega-6 fatty acids in the typical Western diet come from industrial vegetable oils, including sunflower, safflower and corn oils. Although touted as "healthy" options, they have unhealthy ratios of omega-6 to omega-3. The magazine Experience Life points out that corn oil offers a ratio of 60-to-1 of omega-6 fats to omega-3 fats, and safflower oil, 77-to-1.
Not all vegetable oils have such an unhealthy ratio of fatty acids; cold-pressed olive oil is versatile for cooking and offers a better ratio of fatty acids with an average of 10-to-1, omega 6 to omega 3. Flaxseed oil is another option for cold preparations, with a ratio of omega-6 to omega-3 of 0.28-to-1, but it may form unhealthy free radicals when heated to high temperatures.
Noninflammatory Omega-6 Fatty Acids
Oils rich in the omega-6 fatty acids called linoleic and gamma linolenic acid, such as evening primrose oil and black currant oil, are available as supplements. These omega-6 fatty acids are more anti-inflammatory in nature and affect the body in the same healing way as omega-3 fatty acids. Supplementation with omega-6 fatty acids generally isn't needed because your regular diet usually provides more than enough.
Achieving Balance
A Mediterranean-style diet has a more favorable ratio of omega-6 to omega-3 fatty acids. This diet is rich in wild fish, fresh vegetables and fruits, olive oil and whole grains. Increasing your intake of omega-3 fatty acids may also be a positive dietary step. Cold-water fish, including salmon and mackerel, flaxseeds and walnuts are sources of omega-3 and may help balance out your omega-6 intake.