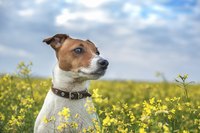 Tavist, also known by its generic name clemastine fumarate, is a type of antihistamine that your vet may prescribe for your pooch. It's used to treat allergic reactions in dogs due to a variety of causes. Note that Tavist-D is a different formulation and contains an additional ingredient that may not be safe for dogs.
Tavist Uses
Tavist is a type of ethanolamine antihistamine used to reduce the amount of histamine in your pup's body. This biochemical is responsible for the inflammation, pain, swelling and itchiness that occur as a reaction to contact with an allergen. Tavist typically is prescribed to treat allergic reactions due to vaccinations, blood transfusions, bee stings and other insect bites and snake bites, according to VeterinaryPartner.com. It also may be prescribed to treat your dog's itchy skin due to environmental or food allergies. Tavist ND contains loratadine, a different type of antihistamine that may not be appropriate for your dog, according to the Cheyenne West Animal Hospital in Las Vegas, Nevada.
Dosing and Side Effects
Tavist comes in 1.34 mg and 2.68 mg tablets and a 0.67 mg/5 ml liquid, all of which you give orally to your pup. Your vet will tell you the exact amount to give your pooch. This medication typically is given twice per day and may be prescribed for short- or long-term use. Tavist may have a mild sedative effect on your pooch or cause hyperactivity. Don't give Tavist-D to your pooch, which contains clemastine and phenylpropanolamine. The dose of phenylpropanolamine it contains may not be safe for him.