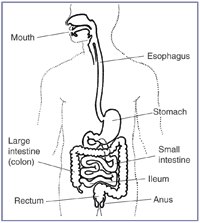 Dicyclomine is a medication that relieves spasms in involuntary, smooth muscles like those that line the gastrointestinal tract. Several companies produce dicyclomine in capsule, syrup, tablet and intramuscular injection formulations. Patients taking dicyclomine principally need to watch for side effects related to dehydration. Other side effects from dicyclomine can affect a patient's ability to drive a car or operate machinery.
Uses
Dicyclomine has a U.S. Food and Drug Administration-approved indication to treat irritable bowel syndrome, or IBS. Some doctors also prescribe dicyclomine syrup to treat the symptoms of canker sores in the mouth (i.e., stomatitis) and inflammation of the mucosal lining of the mouth and upper esophagus.
Dosing for IBS
Most IBS patients need four 40 mg doses of dicyclomine each day to receive a therapeutic benefit. However, the prescribing information for dicyclomine notes a significant number of patients will experience side effects when taking the optimal daily dose. As a result, patients being started on dicyclomine therapy should receive four 20 mg doses each day for 2 weeks and have their dosages increased only if they do not have serious problems and do appear to need more medication to get relief from their IBS symptoms.
Typical Side Effects
In clinical trials summarized in the prescribing information for dicyclomine, 33 percent of patients receiving the medication experienced dry mouth. The next most-frequently reported side effect was dizziness. Other problems reported by more than 5 percent of dicyclomine-treated patients were, in order, blurred vision, nausea, lightheadedness, drowsiness, weakness and nervousness.
Less-Frequent Side Effects
In addition to the more common side effects, patients taking dicyclomine have also experienced bloating, loss of appetite, abdominal pain, numbness, fainting (i.e., syncope), speech disturbances, rash, urinary retention, irregular heartbeat, breathing difficulties and nasal congestion. Patients who receive injections of dicyclomine can have redness and swelling around the injection site.
Warnings
Because of the high incidence of side effects such as dizziness and blurred vision, dicyclomine's prescribing information states, "the patient should be warned not to engage in activities requiring mental alertness, such as operating a motor vehicle or other machinery or performing hazardous work while taking this drug." Patients also need to be aware that taking dicyclomine will reduce their ability to sweat, putting them at risk for heat prostration at relatively low room and air temperatures. Last, patients need to stop using dicyclomine of they develop diarrhea or have changes in mental function. Diarrhea can indicate the presence of a gastrointestinal obstruction, and a small number of people taking dicyclomine have experienced hallucinations and loss of short-term memory.
Contraindications
Patients with blockages in their gastrointestinal or urinary tracts cannot use dicyclomine. Nor can people with weak hearts because of excessive bleeding, nursing mothers, infants younger than 6 months, people with glaucoma, people with severe ulcerative colitis, people with a progressive muscle-weakening condition called myasthenia gravis or people with reflux esophagitis---an inflammation of the part of the esophagus that feeds directly into the stomach caused by the rising of stomach acid into the tube.
Available Products
Axcan sells dicyclomine under the brand name Bentyl. Several companies make and sell generic versions of dicyclomine, which the FDA has determined to be identical to Bentyl in terms of benefits and risks. Lannett, Mikart, Mylan, Watson and West Ward produce unbranded dicyclomine.