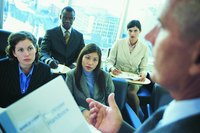 The role of a manager in a workplace can be directly correlated with the overall productivity of staffers. Strong leaders motivate and encourage employees as a tool for enhancing performance and improving organizational effectiveness.
Model Behavior
Effective leaders lead by example, modeling the behavior they want employees to emulate. They accomplish this by hiring the right people for the right positions, providing detailed job training, outlining professional expectations and providing constructive feedback about performance. Managers who take an active and hands-on approach to on-boarding employees and ensuring they have the tools and skills necessary to do their jobs correctly can create a highly effective work environment.
Set Performance Goals
Leaders who set specific goals with employees help define the responsibilities of individual positions while gaining buy-in from staffers. Employees should be involved in the goal-setting process, creating objectives that are measurable, specific to their job descriptions and are readily achievable. Checking in with staffers and periodically assessing progress can help ensure organizational effectiveness by identifying slow-downs and problem areas before they get out of hand.
Cross-Training
Cross-training employees in different areas of the company ensures continuity between departments and greater understanding of operations between divisions. This can improve effectiveness and reduce downtime when key staffers are absent or when one area of the business needs additional support. Provide mentoring and ongoing training opportunities for employees who are qualified for new responsibilities.
Motivate and Involve Employees
Employees who feel challenged and appreciated are more likely to be high-achieving contributors in the workforce. Managers who provide positive reinforcement in the form of bonus structures and internal and external recognition programs can encourage staffers and increase loyalty, commitment and dedication. This, in turn, can enhance productivity, reduce absenteeism and encourage higher degrees of performance.
Create Long-Term Retention
Reducing employee turnover can create a workforce dynamic in which employees are seasoned, well-trained and familiar with all aspects of a company's operations. Reduce turnover by offering competitive wages and benefits, providing opportunities for internal advancement and making staffers feel invested in the company. Host employee focus groups, ask for feedback and give workers a chance to see how their contributions have a positive impact on the company. This creates a sense of personal and professional accomplishment and enhances the overall effectiveness of the company.