From the moment we take a bite of food, our body instantly goes to work digesting it. Protein requires our stomach to go into overdrive in order to digest it. Some high-protein foods contain nutrients that allow the body to digest them with greater ease than others.
Beans
Beans truly are a magical fruit. The New York Times lauds beans for their high protein content, explaining that 1 cup of soybeans has 20 grams of protein, or a third of your daily intake.
Not only are they high in protein, beans also aid digestion due to their high fiber content. The insoluble fiber they contain cannot be broken down by the body; therefore, they soften stools and help any other undigested foods clinging to the colon to pass through.
Nuts
Nuts, well-known for their essential fatty acids, are high in protein. In their book, "Tree Nuts," Cesarettin Alasalvar and Fereidoon Shahidi state that nuts are high in fiber and easy to digest. While nuts contain less protein than meat, they are easier to digest. In addition, nuts are high in minerals like potassium, copper and magnesium, as well as vitamin E. For these reasons, consider eating more raw nuts in your diet: sprinkle them on salads, or pack them as a quick snack for work.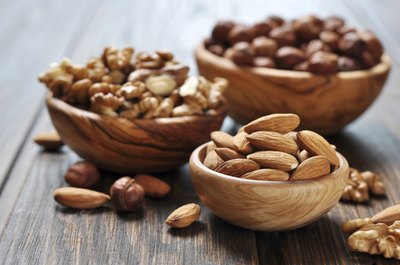 Soy Milk
Liquids digest with greater ease than solid foods. Soy milk is packed with protein, as is hemp milk, and they minimize the amount of energy expended on digestion. According to calorieking.com, 1 cup of soymilk has 7 grams of protein. Soymilk also can be used in smoothies, and as a dairy substitute. Other soy products, such as soy beans and veggie burgers, pack the same protein punch.
Tips
In his book, "Healing with Whole Foods," Paul Pitchford recommends that we eat high-protein foods first. Doing so will enable the body to use enough stomach acids to digest it, whereas consuming protein after starches and other foods might create problems. Eat high-protein foods with green, non-starchy vegetables. Pitchford suggests that greens aid in the digestion of high-protein foods like meats and legumes. Therefore, eating a steak salad will yield better results than eating a steak with a baked potato.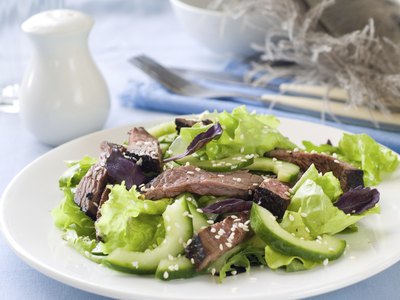 Considerations
Watch your protein intake carefully: A consequence of poor digestion is overconsumption of protein. Phyllis Balch explains in "Prescription for Nutritional Healing" that too much protein taxes the kidneys and the liver. In addition, a toxic byproduct from digesting protein is uric acid, which is problematic if found in the body in high levels. How many grams of protein do you eat a day? If the amount is high, perhaps the digestive issues you experience stem from overconsumption of protein.