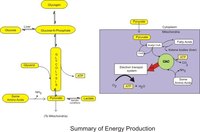 Cellular metabolism processes involve a series of chemical interactions that work to provide energy and nutrients for the cell. These interactions are made up of metabolic pathways that are regulated by enzyme reactions. The roles of NADH and FADH2 are to act as electron carriers at specific steps within the metabolism process.
Identification
Throughout a cell's metabolism process, it must manufacture the energy it will need to function. The cell respiration process is designed to produce ATP--also known as adenosine triphosphate--which is the energy fuel of the cell. Both NADH and FADH2 are involved in the cell respiration process. Glycolysis and the Krebs Cycle are two metabolic pathways that lead up to the making of ATP. NADH is a product of both these processes, whereas FADH2 is a product of the Krebs cycle.
Glycolysis
Glycolysis is the process in which glucose is broken down and used to create pyruvate molecules, which are also a type of sugar. This is the first stage of the cellular respiration process. ATP molecules produced from a previous respiration cycle are recycled. Their energy is used to help break down the glucose molecules. During this process of creating pyruvate, NADH molecules are manufactured. Glycolysis takes place within the cell cytoplasm. From there, NADH molecules travel to the mitochondria cell structures where the next stage of the cellular respiration process begins.
The Krebs Cycle
The Krebs Cycle--also known as the "citric acid cycle"--is where citric acid molecules are manufactured and then broken down into energy for the cell's use. The energy produced in the Krebs Cycle is stored inside NADH and FADH2 molecules for use within the electron transport chain, which is the next stage of cellular respiration. As all of these cycles, or stages, are self-repeating, each essential molecule type can be recycled and used in the next round.
Function
As electron carriers, NADH and FADH2 assist with delivering needed electrons through the electron transport chain. The chemical make-up of both molecules carries a charge. During the electron transport chain, these charges are passed along through a series of nine steps which end up creating H2 molecules. The difference between the two is NADH, which is introduced at the start of the electron transport chain; whereas, FADH2 appears around the third step in the process.
Electron Transport Chain
The electron transport chain occurs during the last stage of the ATP production process. This stage takes place within the mitochondria structures that sit within the cell's cytoplasm. NADH and FADH2 provide the energy (charge) needed to convert O2 molecules into H2O. Integral membrane proteins work with NADH and FADH2 to create the pressure needed to move H2 molecules through the mitochondria membrane. Once the H2 molecules enter into the mitochondria, ATP synthesis, or ATP production can begin.