The Mayo Clinic states that the exact cause of a hiatal hernia is unknown, however, medical researchers have outlined several probable causes of the condition including injuries, birth defects and damage to the body done by obesity. The condition is seen more often in women (61 percent in 2002 to 2003), according to the Hospital Episode Statistics recorded by the Department of Health in England. The U.S. National Hospital Discharge Survey reported that more than 90 percent of all female hospital discharges for digestive diseases in 1985 listed the condition.
Hiatal Hernia Defined
The diaphragm is a muscle that assists in breathing and is located between the abdomen and the chest cavity. The diaphragm assists the body in maintaining regular breathing patterns. The hiatus is a small opening in the diaphragm that allows the esophagus entry into the stomach. People with hiatal hernia conditions have weak muscles around the hiatal opening, allowing the upper part of the stomach to bulge up through the diaphragm into your chest cavity, according to the Mayo Clinic.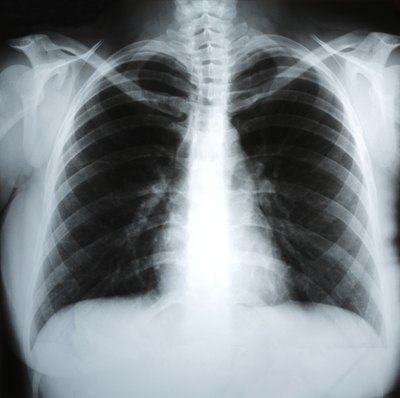 Physical Causes
Spectrum Health states that "Many people age 50 and over have small hiatal hernias." It lists one of the causes as conditions that include spells of coughing or severe and sudden sneezing that strains the area of the abdomen.
Related Conditions
Diseases that include regular bouts with vomiting, such as anorexia nervosa, are also more susceptible to hiatal hernia conditions. Obesity is the largest contributing factor to the condition. A significant number of women also experience the condition during pregnancy. The National Institutes of Health states that gastoesophageal reflux disease (GERD) is usually found in patients with hiatal hernias, a result of the acid flowing into the esophagus from the stomach area.
Smoking
Smoking is listed as a related cause of hiatal hernias by the Mayo Clinic and the National Institutes of Health. The exact relationship between the two is unclear, but female smokers over 50 years of age have the highest incidents of the condition. This link may be related more to the general health of the individual, rather than a direct link to smoking. Additional research is required.
Congenital Link
The National Institutes of Health reports that "Children with this condition are usually born with it (congenital)." They also note that infants with the condition also have gastroesophageal reflux as a result of the failure of the muscle to restrict acid to the stomach area. A study done by the Department of Child Health, The Queen's University of Belfast in Northern Ireland in 1999 examined five generations in one family and found a direct hereditary link to the condition that they labeled a "true autosomal dominant inheritance."