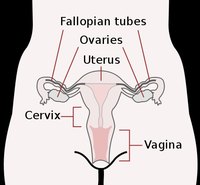 Cervical cancer is a form of cancer that affects a woman's cervix (the area of the uterus closest to the vagina). Since most cases of cervical cancer result from the sexually transmitted human papillomavirus (HPV), recent efforts to combat cervical cancer have focused on HPV vaccines and emphasis on safe-sex practices. Nonetheless, cervical cancer still affects over 11,000 women a year (according to American Cancer Society 2009 statistics). Yet if caught early, cervical cancer is one of the more curable cancers.
Cure Rates
In general, cervical cancer is considered one of the more "curable" cancer with 92 percent of sufferers of localized cervical cancer surviving 5 years or more. If you factor in more advanced stages of cervical cancer, the overall 5 year survival rate is 71 percent. While a 5-year rate doesn't tell us anything about the overall cure numbers, it is the most widely available statistical benchmark for cancer prognosis.
Considerations
While 5-year survival rates give a decent indicator of a cancer's initial impact, you must not view remission as a complete cure. Relapses often occur even after treatment. Thus, you must remain vigilant and follow-up frequently with your oncologist to ensure that you're still cancer-free.
Treatment
In order to improve your chances of a complete cervical cancer recovery, you must follow through with all of your doctor's treatment recommendations. The most common treatment methods used for cervical cancer are surgery, chemotherapy and radiation. If your cancer is only on the outside of the cervix, methods such as surgical removal of cancerous regions, cryosurgery (freezing the cancer cells) and hysterectomy are considered.
When cancer cells are present within the cervix (not just on the outside) or has spread to other regions, chemotherapy or radiation are often used in addition to surgery.
Follow-Ups
Regardless of whether you had outer-layer cervical cancer or a more invasive variety, you will need to follow up with your oncologist and other doctors and continue the complete treatment regimen. While your doctor will attempt to remove all of the cancer cells with surgery, it's often difficult to catch all of the cancer. Thus, relapse is possible.
For cervical cancer that has spread, chemotherapy not only destroys the existing cancer cells but helps to prevent relapse. Since chemotherapy takes awhile and has many side effects (e.g. hair loss and nausea), many people are tempted to stop before the entire course is complete, especially if the cancer is no longer present. However, such an approach is not recommended as it increases your chances of relapse.
Prevention/Solution
Since most cases of cervical cancer result from HPV, your best bet to avoid cervical cancer is to prevent HPV. A vaccine known as Gardasil will help prevent HPV in females between the ages of 12 and 26. In addition to the vaccine, practice protected sex and have your gynecologist give you regular pap smears.