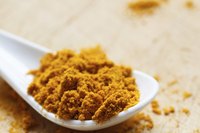 It sure would be nice if you could just sprinkle a little curry powder on your food to help lose a few pounds. But weight loss is never that easy. While some of the components in curry are linked to weight loss, the evidence to support claims is limited.
A Little About Curry
While curry is a blend of spices that includes cumin, cardamom, coriander, turmeric, dry mustard, cayenne, onion, chili pepper, fenugreek and pepper, when speaking about it, most people are referring to a sauce-based dish. These dishes are made with ghee, which is a clarified fat, and tend to be high in calories.
Cayenne and Weight Loss
Cayenne, one of the components of the spice curry, is touted as a weight-loss aid. While the active ingredient in cayenne, capsaicin, is a stimulant, it is not yet clear that it boosts metabolism or helps with weight loss, according to Memorial Sloan-Kettering Cancer Center.
Turmeric, Body Fat and Weight
Turmeric is another component of curry that has ties to weight loss. A 2009 animal study funded by the USDA's Agricultural Research Service found that rats fed a high-fat diet supplemented with curcumin, the active ingredient in turmeric, lost weight and body fat. The researchers theorize that curcumin stops the spread of fat tissue by inhibiting new blood vessel growth. As with cayenne, human studies with turmeric are necessary before it can be recommended as an aid for weight loss.
Diet-Friendly Curries
To lose weight, you need to eat fewer calories than your body needs. To cut calories, U.K. dietitian Juliette Kellow suggests you eat vegetable, shrimp or chicken curries and try to minimize the amount of sauce you consume, which tends to contain high amounts of calories from not only the ghee, but also cream and ground almonds. Dry curry dishes, such as tandoori, tikka or bhuna, may be lower-calorie options as well, she says.