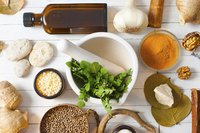 The use of plants and herbs for various medicinal purposes dates back to ancient times. Although you probably think of conventional medications to treat different conditions first, the World Health Organization estimates that 80 percent of individuals worldwide rely on herbal medicine for some aspect of their health care. If you're wondering about which herbs can improve your health and happiness, several that are commonly used may be helpful.
Possible Immune Booster
Although studies on the effectiveness of echinacea have shown mixed results, the herb is frequently used for stimulating the body's immune system and preventing colds or shortening their duration. The University of Maryland Complementary and Alternative Medicine Guide's dosage recommendation for adults is 1 to 2 grams of the dried root to make a tea, 2 to 3 milliliters of a standard tincture or 300 milligrams of standardized powder. The guide advises taking it three times each day for no more than seven to 10 days.
In Your Spice Rack
Two herbs with disease-fighting properties might be as close as your spice rack or refrigerator. According to NYU Langone Medical Center, garlic may help reduce cholesterol and triglycerides, as well as reduce the risk of heart disease. Because it has antibacterial properties and has been shown to kill bacteria, viruses and fungus, garlic may also be helpful in preventing colds, flu and other infectious diseases. Turmeric, often used in Indian curries, also has a long history of medicinal use especially to treat GI problems like indigestion, ulcerative colitis and stomach ulcers. It's also been researched for its anti-cancer properties. Try adding ground turmeric to vegetables, or make tea with it by mixing a teaspoon with honey and hot water.
Mood Enhancers
Some herbs may help with depression and anxiety and promote relaxation and sleep. According to the University of Maryland Medical Center, St. John's wort is well known for its antidepressant effects, and most research studies have shown it to be effective in treating mild to moderate depression. Because the herb can interact with many common medications, always consult your doctor before trying St. John's wort. Valerian is a popular alternative to sleep medications and it's considered to be safe; however, studies on its effectiveness are mixed.
Be Cautious
It's important to remember that the FDA doesn't regulate herbal remedies, and they can vary in concentration and potency from brand to brand. In addition, many have side effects, and some may interact with other herbs or prescribed medications or can even be harmful to you. If you're considering using herbs to help improve your health or mood, discuss it first with your health care provider, and use a trained expert in herbal medicine to assure you're taking the right product at the right dose.