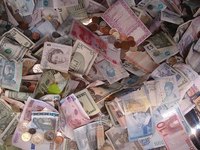 The term "bank" is applied to a variety of financial intermediaries. The financial intermediary matches suppliers of capital to invest against those who are in need of capital financing. The categorization of the bank is directly associated with its purpose and the type of customer it serves.
Purpose
Banks provide liquidity to financial markets. Corporations raise capital for operations by issuing shares of stock that represent ownership stakes to investors or taking on loans by selling bonds. Meanwhile, private citizens will need loans to start businesses, buy homes and attend college.
Individuals and entities that have earned excess capital will patronize banks by making deposits or committing investment capital for safekeeping and to earn returns upon the money. The bank invests the deposits for its own account and on the behalf of customers into loans and equity.
Investment Bank
Investment banks are financial intermediaries linking institutions to private citizens within the capital markets. These banks advise governments, money management firms and corporations upon means to raise and invest capital. Investment banks price, coordinate and execute initial public offerings (IPO) and bond issues on the behalf of customers who wish to sell securities to investors. The investment bank will trade investments for its own account and offer financial services for clients as a broker-dealer.
Commercial Bank
Commercial banks accept deposits and make loans to customers. "Spread," or profit, is made from the difference between interest payments made upon deposits and the interest earned from loans. Commercial banks provide checking, savings and money market accounts to depositors, while offering mortgages, credit cards and personal loans to borrowers.
For the sake of comparison, investment banks are identified with Wall Street and commercial banks are identified with Main Street. Further, the term "commercial" bank is often associated with business customers.
Retail Bank
The "savings" or retail bank deals with individual customers to take savings deposits. Individuals have access to similar banking products as commercial clients. Interest rates upon deposits may be smaller due to lower deposit amounts; access to credit will be more restricted because of lower income levels than those of business customers. The Federal Deposit Insurance Corporation (FDIC) insures up to $250,000 worth of deposits held at commercial and retail banks per customer.
Regulation
U.S. banks are regulated at the federal and state level. The FDIC, Federal Reserve Board, the Office of the Comptroller of the Currency and the Office of Thrift Supervision oversee commercial banks at the federal level and, generally, preempt state law. These institutions provide guidelines to extend credit, build reserves and disclose particular consumer information.
The Securities and Exchange Commission (SEC) is responsible for federal securities law, which largely affects investment bank transactions. Regulators have historically debated how best to separate investment from commercial bank activity, as evidenced by the 1933 Glass-Steagall and 1999 Gramm-Leach-Bliley acts.
The Glass-Steagall Act categorized financial intermediaries into investment and commercial banks. The Gramm-Leach-Bliley Act of 1999 then allowed bank holding companies to have retail, commercial and investment bank operations--effectively reversing Glass-Steagall.