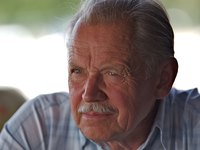 Weight gain and obesity might be an increasing problem, even an epidemic, for many in this country but unexpected weight loss can be a problem for an elderly man. As many as 25 percent of elderly patients with unexpected weight loss have no idea what the cause is and can suffer serious health consequences as a result, according to the American Academy of Family Physicians.
Significance
As the body grows older, lean body mass decreases, the metabolism slows, and the senses of taste and smell become less acute. Also, the elderly often feel fuller quicker and are hungry less often due to hormonal changes and changes in the stomach. Despite these "normal" changes, statistics show that unexpected or unexplained weight loss puts the elderly at increased risk for depression, infections, complications from existing diseases or conditions, and even death.
Causes
Aside from the age-related changes mentioned above, weight loss can also result from a decrease in finances, poor dental health, including tooth loss and ill-fitting dentures, social isolation, side effects from prescription medications, or an overall decline in functional abilities due to disease, disability, or dementia. Most cases of unexpected weight loss are due to a combination of these factors. Weight loss can also present itself as a symptom of cancer, digestive disorders, pulmonary disease, alcoholism, dementia, and many other diseases.
Identification
Body weight is very individualized, but a good rule of thumb is to consider any weight loss in excess of 5 percent over a six- to 12-month period significant. If getting exact weight measurements is difficult (in other words, the patient refuses to weigh themself or reports inaccurate data) then doctors, nutritionists, and other professionals might rely on other means of tracking weight loss like changes in clothing sizes and the testimony of relatives and close friends.
Diagnosis
Narrowing the long list of possible causes down to an actual diagnosis can be difficult and usually starts with a complete history and physical, a nutritional assessment, a review of all medications taken including side effects and potential drug interactions, psychological and mental screenings, and finally a complete physical examination with a focus on individual organ systems. More specific and targeted tests might then be ordered depending on the findings of the first steps.
Treatment
The first order of business in cases of weight loss, even sometimes before a definitive cause is determined, is to stop the decline through nutritional support and the services of a nutritionist or dietician, speech therapist, and other social services. If a specific cause is identified then it will be addressed with approaches such as cancer treatment or therapy for depression, often while the nutritional support continues. Exercise is usually encouraged and medication is sometimes ordered to stimulate the appetite, and in very severe cases a feeding tube may be used to inject nutrients quickly.