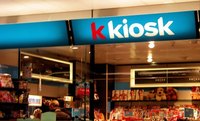 The word kiosk goes as far back to the existence of the Ottoman Empire. Kiosks have existed for centuries, due to their convenience and mobility. Modern kiosks offer an inexpensive answer to entrepreneurs due to their low-risk and high flexibility.
Identification
The architecture of a kiosk is a booth that is approachable by customers on at least one or more sides. A kiosk is a small structure (relative to a big-box Realtor) where a vendor sells specialty products. 1-2 employees are typical to a kiosk. Kiosks are common at malls or high-traffic urban areas. Some kiosks do not have employees and are for the purpose of self-service, such as photo developing booths at drug stores.
Function
A kiosk is a small temporary retail location that is a cheaper option in comparison to a permanent retail location. They often sell specialty goods and have a limited inventory. Outdoor kiosks sell food or disposable items, such as newspapers, magazines, or hot dogs.
History
Kiosks were common during the 13th century onward in India, Persia, Pakistan, and the Ottoman Empire. The word kiosk is of Persian origin and means "shadow-maker".
Types
Aside from kiosks that sell specialty goods, there are informational kiosks and electronic kiosks. Information kiosks sell or hand out maps, pamphlets and other informational products. Electronic kiosks are interactive. An example of an electronic kiosk are a group of computers at an airport that are activated when money is inserted.
Benefits
The benefits of a kiosk are that costs are low in comparison to a permanent location. Flexibility is another advantage of owning a kiosk. License agreements are much shorter, depending on location. As a result, the entrepreneur benefits by being able to ease in and out of locations within a short period of time, especially if the product isn't selling. Kiosks are also beneficial for seasonal businesses, such as a business selling Christmas ornaments during holiday season.