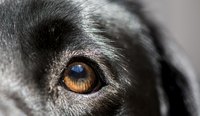 Medicinal teatments for canine eye infections include topical creams, eye drops and antibiotics. Supplements and some homeopathic remedies may also work. In rare cases, surgery may be an option. Eye infections, common in dogs, are easily treated in most cases. Educate yourself on the signs and symptoms of eye infections so you can seek appropriate and timely treatment for your dog.
Eye Infection Symptoms
Signs of eye infection include watery eyes, sensitivity to light, cloudiness, redness, and constant pawing and scratching at the eye. If your dog's eyes have a green, yellow or gray discharge, visit a veterinarian as soon as possible. Otherwise, as soon as you notice any irritation, rinse with pet saline solution, which you can get from a pet store or make on your own by adding a teaspoon of salt to a glass of water. If rinsing does not clear up the issue, and if symptoms persist for more than a day, contact your veterinarian for an exam. If not treated, some eye infections can cause permanent damage or sight loss.
Pinkeye or Conjunctivitis
Conjunctivitis or pinkeye, one of the most common types of canine eye infections, can be caused by virus, bacteria or environmental allergens. Signs include swollen, red and itchy eyes, with a sticky discharge. Antibiotic cream or drops from your veterinarian will help clear up the infection. Natural remedies including chamomile and green tea wash. You can try boric acid, too: Mix 2 teaspoons of boric acid powder into 2 cups of boiling water; stir for several minutes. Let it cool, then soak a cotton ball in the mixture and clean your dog's eyes twice daily. Consult your veterinarian before attempting any method of treatment.
Dry Eye Syndrome
Some dogs develop keratoconjunctivitis siccac, or dry eye syndrome. Inadequate production of tears causes the eye to become excessively dry. If not treated, the cornea may become damaged. Canine keratoconjunctivitis siccac is present in approximately 1 percent of dogs. Breeds prone to developing the condition include the bulldog, the Lhasa apso, the pug, the miniature schnauzer, the Pekingese and the bloodhound. Treatment consists of artificial tears to moisten the eye and tear stimulants to encourage the production of tears. Two commonly prescribed medications for tear stimulation include cyclosporine and tacrolimus. In rare cases, you may explore the possibility of surgery. A veterinary surgeon or ophthalmologist can reposition the salivary ducts so they moisten the eye, but the risky procedure should be pursued only as a last resort.
Canine Uveitis
Uveitis, an inflammation of the eye, is associated with intense redness and pain. Your dog may be reluctant to open his eyes and may be extremely sensitive to light. Infection, high blood pressure or autoimmune disease can cause uveitis. The condition is treated with glucocorticoid steroid eye drops and oral steroids. These may include betamethasone, prednisolone or dexamethasone. Pain medication may also be prescribed. Homeopathic support and traditional treatments combined can help reduce pain and boost the immune system. Rosemary and meadowsweet have anti-inflammatory properties. Chelidonium majus and rosemary may also serve as natural pain-relievers. Consult your veterinarian before using any supplements or natural treatments.