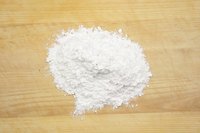 Cornstarch -- a powdery substance made from ground corn kernels -- is a quick fix for watery gravy and runny pies. Whisked together with a bit of water, cornstarch makes an excellent thickening and stabilizing agent. The powder is almost pure carbohydrate with very few other nutrients. Ordinarily, you'd consume cornstarch in such small quantities that it wouldn't make much difference to your diet. In some instances, however, individuals crave cornstarch and eat it in unhealthy amounts.
Nutrition Facts
One cup of cornstarch has 488 calories and only 0.3 gram of protein. It contains 116 grams of carbohydrates, but no sugar, and has 1.2 grams of dietary fiber. A cup of cornstarch has small amounts of minerals including calcium, phosphorus, magnesium, potassium and sodium.
Problems With Pica
A whole pan of gravy may only contain a tablespoon of thickener, so it's rare to eat cornstarch in any significant amount. If you are craving cornstarch, however, you may have a medical condition called pica. Pica is an urge to eat non-nutritive substances such as cornstarch, dirt and chalk. It is sometimes a side effect of pregnancy. Consuming excessive cornstarch is a specific category of pica called amylophagia. The risks of eating non-nutritive substances include constipation, bowel obstruction, nutrient deficiencies and dental problems.