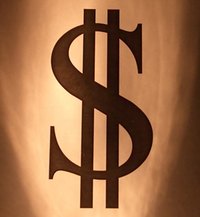 Currency exchange is an essential part of international business and underpins economic development, trade, tourism, finance and many other important aspects of the world economy. Currency trading, especially between international banks, sets the value of one currency against another on a daily, even hourly, basis.
US Dollar Is Global Standard
The U.S. dollar (USD) is the main global reserve currency, which means that it is the currency held by governments and organizations around the world to fund international trade and financial transactions. The U.S. dollar is also the currency used to value and trade many global commodities, such as oil and gold. Recently some institutions and governments have suggested moving away from the U.S. dollar as the world reserve currency and going to a basket of currencies or a single currency, such as the Euro (EUR).
Other Important World Currencies
The Euro is the currency of the European Union and is rapidly becoming a dominant global currency. The Euro and the U.S. dollar make up a large percentage of daily trading on the foreign exchange, or Forex, according to the Bank for International Settlements, based in Basel, Switzerland. Elsewhere in Europe, the British pound (GBP) and the Swiss franc (CHF) are strong currencies that remain outside the Eurozone although the United Kingdom and Switzerland are members of the EU. The Japanese yen (JPY) is also a powerful global currency, which dominates Asian markets and challenges the Euro and the U.S. dollar for world dominance.
Other Dollar Currencies
Australia, New Zealand and Canada all call their currencies dollars. These dollar currencies are commodity-based, which means their value floats with the value of the country's foreign trade. These currencies are nicknamed the Aussie, the Kiwi and the Loonie. The Canadian dollar's nickname comes from the loon that appears on the Canadian one-dollar bill. These three currencies are among the most heavily traded Forex currencies.
Emerging Economies' Currencies
Among Forex traders, some of the most exciting currencies are those of emerging economies in South America, Africa and Eastern Europe. The Brazilian real (BRR), the South African rand (ZAR), and the Norwegian krone (NOK) are three of these hot currencies, which have appreciated significantly against the U.S .dollar and the Euro, according to Interbank foreign exchange rates reported by Reuters.
Understanding Forex Symbols
The three-letter abbreviations for each currency are standard across the globe. For example, the value of the U.S. dollar versus the Euro is presented as EUR/USD 1.4550, which means that one Euro will buy 1.4450 U.S. dollars. The order of the presentation is standard in Forex summaries, but many currency calculators are available online that will provide exchange rates for tourists and businesses.