There are two types of ear infections: middle ear infections, which occur in the middle ear, and swimmer's ear, which is an infection of the outer part of the ear. Middle ear infections usually develop after a cold or as a result of blocked eustachian tubes. Swimmer's ear often occurs when water or another irritant disrupts the ear canal's ability to defend against bacteria and fungi.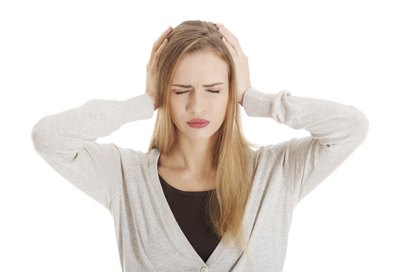 Colds and Other Viral Infections
According to the Mayo Clinic, middle ear infections often appear after a cold or other viral infection. The infection can cause the lining of the middle ear to become swollen. Colds also often block the eustachian tubes, the small tubes that connect the middle ear and the nose. Blocked eustachian tubes prevent the middle ear from draining effectively, leading to fluid buildup and possible infection. Since children have smaller eustachian tubes than adults, ear infections are much more common in children than in adults.
Swollen Adenoids
As the Mayo Clinic explains, adenoids are tissues located in your upper throat. If the adenoids become infected or swollen, they can block the eustachian tubes and inhibit drainage. It's also possible for adenoids to spread infection to the eustachian tubes.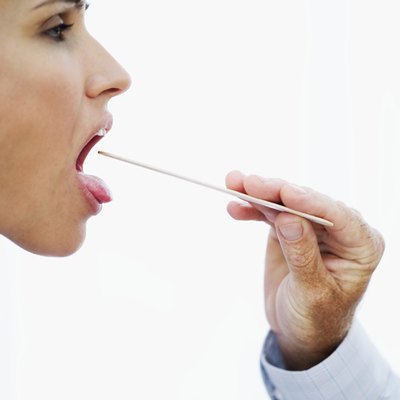 Swimming
According to TeensHealth from Nemours, swimmer's ear can be caused by spending a lot of time swimming or diving. Swimming in lakes or rivers can introduce bacteria into the ear canal, while swimming in a chlorinated pool can make it easier for bacteria to penetrate the ear canal's natural defenses. As FamilyDoctor.org points out, any water in the ear will remove the ear canal's protective ear wax, making it easier for bacteria and fungi to grow. As a result, swimmer's ear is sometimes the result of something as simple as water that gets into the ear while showering.
Cleaning the Ear
As FamilyDoctor.org explains, cleaning your ears may lead to swimmer's ear, since cleaning can remove the ear canal's protective layer of wax. Infection can also develop if you scratch the skin of the canal while attempting to clean it.
Prevention
According to the Mayo Clinic, you can help to prevent middle ear infections by avoiding colds and other viral infections. If you do get a cold, you might consider taking an over-the-counter decongestant to help reduce fluid build-up. If you experience congestion as a result of allergies, allergy medicines may reduce your risk of developing an ear infection. As for preventing swimmer's ear, TeensHealth from Nemours advises drying your ears with a towel after swimming or showering. Don't put any objects in your ears that might irritate the skin of the ear canal.