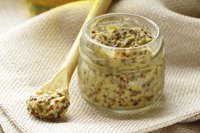 No food has the power to significantly affect your weight. That said, mustard may slightly increase calorie burning, according to a report published in "Annals of the New York Academy of Sciences" in 2010. Ultimately, you lose weight by consuming fewer calories from foods and beverages than your body burns for energy. But instead of counting on any single item to help you reach your goals, focus on reducing portion sizes, choosing healthy foods and exercising more.
A Smart Condiment Choice
On average, yellow mustard contains just 3 calories per teaspoon, while spicy brown mustard may contain 5 calories in the same serving. That makes mustard far lighter than many other dressings. Mayonnaise, for example contains 31 calories per teaspoon, or 94 calories in a typical tablespoon-sized serving. To aid in weight loss, spread mustard on sandwiches or add it to potato salad instead of mayo. Also try pretzels and mustard in place of chips and dip. Just look out for honey mustards, which contain more calories than unsweetened varieties.