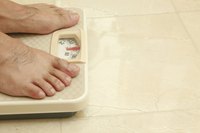 Aspartame ranks among the oldest artificial sweeteners, and skepticism over its safety is nothing new. According to the Centers for Disease Control and Prevention, gastrointestinal and skin reactions are the most commonly reported side effects from aspartame consumption. Weight gain, on the other hand, is not widely reported. In fact, the American Heart Association advocates for the use of artificial sweeteners over sugar for weight management. While studies are ongoing, there's no consensus that aspartame causes weight gain.
Artificial Sweeteners and Calories
The greatest benefit of artificial sweeteners like aspartame is that they're calorie-free. If you normally eat a lot of sugary foods and drinks, then switching to "diet" versions containing aspartame -- in theory -- may help you cut calories. The problem is that this simple step may not help you reduce overall calories without other dietary changes. A classic example is eating a fast-food hamburger with a diet soda -- it's less fattening than a burger and sugary soda, but it will likely still make you gain weight.
Aspartame and Weight Gain
Aspartame is used in a variety of food products, which people with weight problems often turn to for shedding excess pounds. The problem is that more people are overweight than ever, leading some skeptics to question aspartame's purported benefits. A 2010 article published in the "Yale Journal of Biology and Medicine" suggests that sweeteners may enhance the appetite, thereby increasing calorie consumption. Aspartame, in particular, was found to cause overeating. Use aspartame in moderation, and focus on whole, unprocessed foods for long-term weight loss.