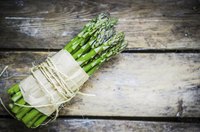 Asparagus, whether long, slender and pale green or chubby and beige-white, is a nutritious vegetable that can be an important part of a weight-loss diet. Rich in a number of nutrients, including dietary fiber, asparagus contains substances that can help even out your blood sugar levels, leading to fewer hunger cravings.
Calories and Fiber Content
A 1-cup serving of asparagus, cooked, has only 40 calories per serving, less than half a gram of fat and 3.6 grams of fiber. Not only does a low-fat diet help you keep your weight down, but fiber provides bulk to your diet, making you feel fuller with less food. It can help reduce the chance of overeating and also relieve constipation. A single serving of cooked asparagus has 12 percent to 14 percent of the recommended intake of fiber, which, according to the University of Maryland Medical Center, is 25 to 30 grams per day.
Part of a Healthy Diet
Asparagus, raw or cooked, helps you meet your daily recommended intake of vegetables, which, following the U.S. Department of Agriculture guidelines, is 2 to 3 cups per day. According to the Centers for Disease Control and Prevention, a diet high in fruits and vegetables can help with weight loss. Because vegetables also contain so much water and so few calories based on volume -- they are less energy-dense -- they can reduce your overall calorie intake, leading to weight loss. Foods low in energy density are those with 0.7 to 1.5 calories per gram. Asparagus has an energy density of 0.22, making it an extremely low-density food.
Helps Counteract Obesity Symptoms
Asparagus contains natural compounds that may help regulate blood sugar levels, affecting how quickly your body processes glucose and helping you feel less hungry over a period of time. A 2013 publication in the "Journal of Traditional and Complementary Medicine" found that consuming a powdered supplement of the thin, fine stems of the asparagus plant that aren't normally eaten -- roughly 6 grams per day for 10 weeks -- led to better fasting blood glucose levels.
Cooking With Asparagus
Asparagus can be incorporated into a number of healthy dishes, including salads and soups, or it can be eaten on its own with a little bit of seasoning. This vegetable can be eaten raw or cooked. To keep your asparagus dish healthy, avoid using saturated fats, such as cream or butter, for seasoning. Fresh asparagus, when cooked to a crisp-tender stage, will be bright green and flavorful enough that just a squeeze of lemon and a sprinkle of sea salt will be enough seasoning. To make asparagus soup, consider using low-fat yogurt to add richness.