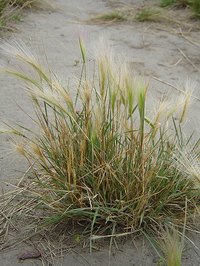 When it comes to health-food supplements, the list is long and confusing. Health-food stores sell a wide range of products, and each is designed to address certain health issues. Today, one of the more popular supplements is barley grass and its relative, wheat grass. These supplements pack nutrients that their proponents believe help to ward off diseases and provide the body with a boost.
The Facts
Barley is a variety of grain grown commercially by farmers. The majority of the crop is grown in Grain Belt states such as Kansas and Nebraska. The grain part of the plant is harvested for use in a variety of recipes. Barley is a main ingredient in beer and is also used in soups and other recipes. The shoot, or stalk, of the barley plant is referred to as barley grass. Though not as commonly used in cooking, barley grass has become popular as a health-food supplement because of its nutrients. It is often sold in health-food stores.
Identification
The barley plant, or Hordeum vulgare, features two distinct parts. The barley grain is an amber-colored part of the plant that develops at the top end of the stalk. Barley grass is the bright green shoot that rises from the soil well before the grains develop. Barley grass is harvested about 200 days after germination when shoots are less than a foot tall. It differs from wheat grass, a similar product sold as a health-food supplement. Wheat grass comes from the wheat plant, a cousin of the barley plant.
Features
Barley grass is popular as a health-food supplement today because it packs many different nutrients. In terms of nutrition, barley grass is more closely associated with leafy vegetables than with the grains the plant produces. Barley grass is rich in vitamins A, C, B1, B2, folic acid and B12. It also packs a healthy dose of calcium, iron, potassium and chlorophyll. Additionally, barley grass supplies nine essential amino acids that the body cannot produce itself. Two teaspoons of barley grass contains 17 calories and 1.4 grams of protein.
Uses
According to Dr. Nicholas Perricone, barley grass boosts good nutrition. Perricone says barley grass has been sold as a health supplement since the first half of the 20th century, when drug stores offered dried barley grass. Today, barley grass is often sold in powder, pill or in fresh form. Fresh barley grass is used to make juice. According to Yoshihide Hagiwara, a Japanese doctor and the founder of a company that sells barley grass, users should take 2 to 6 grams of barley grass powder two to three times per day. Ordinarily, users dissolve the powder in water or juice.
Benefits
According to Perricone, barley grass and its cousin wheat grass are among a short list of "superfoods" that pack lots of healthful benefits. Perricone says studies have shown that barley grass and other "green" foods have beneficial effects on cholesterol levels, blood pressure and cancer prevention. He compares chlorophyll, the substance that gives leaves and plants their green color, to hemoglobin, which carries oxygen through the body via red blood cells.
Theories
Some researchers believe barley grass is a powerful antioxidant that helps the body destroy free radicals, unstable cells that can cause acne, ulcers and even cancer. According to Dr. Allan L. Goldstein, a biochemist at George Washington University's School of Medicine, the key to barley grass's anti-oxidant power appears to lie in alpha-tocopherol succinate. Goldstein says this substance is a relative of vitamin E and appears to inhibit several types of cancer, including leukemia, brain tumors and prostate cancer. According to an October 1999 article in Natural Health Magazine, though, no clinical trials had been conducted to document the validity of these claims.