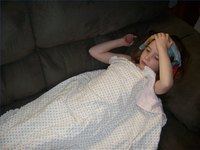 Amoxicillin is an antibiotic used to treat bacterial infections. Classified as a penicillin drug, amoxicillin must be prescribed by a physician. It is most often prescribed to treat strains of common bacteria such as Haemophilus influenzae, streptococci, Staphyloccus, Escherichia coli, and a few others. These bacteria create infections in the nose, throat, ears, bronchi, lungs and urinary tract. Some skin infections may also be caused by these types of bacteria. Because it is effective against a wide array of infections, it is commonly prescribed. Some patients may have an allergic reaction to penicillin drugs, including amoxicillin. Quickly identifying the symptoms of an reaction is imperative.
How the Body Responds to an Allergen
Although patients may be allergic to many things, the body's response during an allergic reaction is the same. Mast cells are located throughout the body and help defend against foreign parasites. These cells contain biochemicals. When the body perceives something as a foreign invader, these cells rupture, releasing biochemical mediators known as immunoglobulin E (IgE) as an attempt to fight off invaders. One of the chemicals released is histamine, which is responsible for allergic responses. Mast cells are bound to the respiratory system, the digestive tract, the skin, heart and uterus by tissue.

Symptoms of Allergic Reaction
Allergic reactions to amoxicillin vary depending on the body systems that are affected. Skin may react by becoming red or itchy or producing hives. Some reactions cause blistering of the skin that may peel. Digestive symptoms are difficult to determine since many patients experience digestive discomfort while taking antibiotics. More serious reactions affect the respiratory system and may include swelling of the lips, face, tongue and trachea. This type of reaction is called anaphylaxis. During anaphylactic reactions, the patient's blood pressure may drop quickly, causing dizziness and shock.
Will Taking Antihistamines Control an Allergic Reaction
Antihistamines are drugs that block the effect of histamine on the tissues within the body. Since histamine is released during an allergic reaction, it seems antihistamines would counteract the body's natural chemical defenses. However, antihistamines do not have the power to stop the release of histamine, and they do not eliminate the increased IgE response. Since the IgE level remains increased, the release of histamine continues and the body's systems continue to be flooded with biochemical mediators. The patient may feel less of the effects of the reaction since the tissue has been spared from the histamine effects, but the chemical warfare continues to rage at the cell level.

Family History is Important
Many people with an Amoxicillin allergy have a family history of penicillin allergies. Being aware of a family history can reduce the risk of an allergic reaction. Because there are many penicillin-based drugs, it is important for you to inform the physician of whether you or anyone in your family has ever had an allergic reaction to any drug. People that have had or have a family member who has had a reaction to ampicillin, carbenicillin, dicloxacillin, oxacillin, Ceclor, Ceftin, Duricef, or Keflex should not take amoxicillin. It is also imperative for the physician to be aware of a history of mononucleosis, any clotting or bleeding disorder, asthma, liver or kidney disease or any other type of allergy.
What to Do if an Amoxicillin Allergy is Experienced
If a patient is suffering from skin reactions, digestive issues, or any other non-life-threatening reaction, the prescribing physician should be notified immediately. Most physicians will ask the patient to stop taking the medication and an exam will be scheduled. There are tests available to determine whether a patient has had an allergic response to amoxicillin. People with any allergic response to medication should have the allergy listed in their medical history and relay the information when receiving medical treatment. The physician may ask the patient to wear a bracelet with a medical alert to warn medical personnel of the allergy. Severe allergic reactions may require emergency treatment. Sometimes epinepherine injection must be administered. This must be determined by a physician or other trained medical personnel.