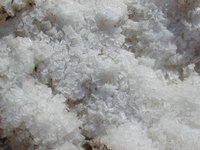 A low sodium level in the body, also known as hyponatremia, has many causes and the consequences range from mild to severe. Hyponatremia is marked by an imbalance in the ratio of water to sodium, causing cells to expand, including brain cells. Treatments range from simple at-home solutions to managed therapy for more serious cases.
Types
There are three types of hyponatremia: hypervolemic, hypovolemic and euvolemic. Hypervolemic is caused by kidney, heart or liver failure, and leads to excess water diluting the body's sodium levels. Hypovolemic can be brought on by chronic health conditions such as Addison's disease, but also cancer and certain medications. Water levels are normal, but sodium levels are still low. Euvolemic involves low water and sodium levels brought on by dehydration or extreme blood loss.
Causes
Excess water intake is a leading cause of low sodium, though diuretics, which increase sodium levels in the urine, and excessive vomiting or diarrhea, which dehydrate the body.
In Addison's disease, the adrenal gland fails to balance the body's sodium, potassium and water levels. Cirrhosis of the liver can also produce hyponatremia, as can certain antidepressants, pain medications and the street drug ecstasy.
Complications
Mild problems associated with low sodium levels are nausea, vomiting, sluggishness, suppressed appetite and irritability. Serious complications include muscle spasms and cramps, as well as seizures. Sudden drops in sodium levels, called acute hyponatremia, can lead to swelling of the brain and bring about coma or death.
Contributing Factors
Advanced age increases the risk of developing hyponatremia, most notably in premenopausal women, since the body is undergoing hormonal changes and often fails to regulate sodium levels. The elderly are also more likely to develop one of the chronic medical conditions leading to hyponatremia. Those who sweat more, such as endurance athletes and individuals new to warm-weather climates, tend to put themselves at risk by drinking more water.
Prevention
Controlled water consumption lowers the risk of developing hyponatremia. Drink water in moderation, replacing only what is lost during physical activity, and address mild symptoms early before they develop into severe problems.
Treatment
If treatment is necessary, intravenous solutions containing sodium often solve the problem, and pain medications alleviate associated problems, including headaches, nausea and spasms. For cases involving underlying medical conditions, such as Addison's disease, hormone therapy may be needed.