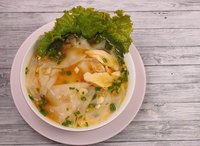 A staple in Asian cuisine, mung bean noodles add a pleasing texture to soups and stir-frys. They have little flavor of their own and easily soak up the flavors of sauces and marinades. Gluten-free dieters can safely use mung bean noodles to replace wheat pasta in a variety of dishes. As a source of nutrition, however, mung beans offer relatively little. Prepare them in dishes with lean protein and colorful vegetables to increase the nutrient content of your meal.
Calories, Carbs, Protein and Fat
A 2-ounce serving of mung bean noodles, measured before cooking, contains 200 calories, most of which come from its 49 grams of carbs. Almost all of those 49 grams come from starch; there's less than half a gram of fiber and no sugar. That same size serving has only a trace amount of protein and fat.
Vitamins and Minerals
The only micronutrient that mung bean noodles offer in any significant amount is iron. One 2-ounce serving of mung bean noodles provides 1.3 grams of iron, which is 16 percent of the amount men need each day and 7 percent of women's daily needs. Mung bean noodles also offer trace amounts of calcium and phosphorus.