Making a commitment to perform crunches on a regular basis can eventually have you boasting a six-pack set of abdominal muscles, but only if you also perform aerobic exercise to burn fat. Crunches, while effective as a muscle-strengthening exercise, offer little in the way of a caloric burn due to their strength-training nature and the fact that the average person can't perform this exercise for more than a few minutes.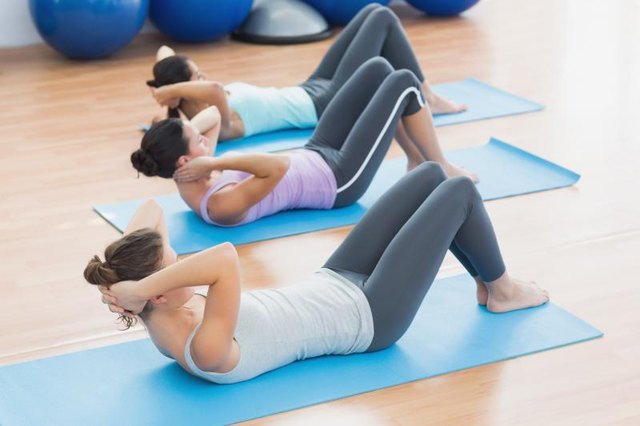 (Wavebreakmedia Ltd/Wavebreak Media/Getty Images)
Harvard Health Publications reports that moderate calisthenics, which encompasses exercise such as crunches, are a slow calorie burner. A 155-pound person can expect to burn only 167 calories during 30 minutes of this workout. Given, however, that crunches would likely be just a fraction of your half-hour calisthenics routine, your actual caloric burn from crunches would be significantly less.
The calorie calculator on HealthStatus reports that a 40-year-old male of average height who weighs 155 pounds burns 16 calories in three minutes of moderate crunches and 28 calories in three minutes of vigorous crunches. A lighter person will burn fewer calories, while a heavier person will burn more. Caloric burn aside, crunches are useful at strengthening your core and have numerous variations, such as twisting and weighted variations.
Promoted By Zergnet