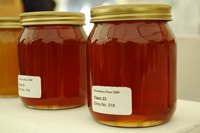 Honey and sugar are two common sweeteners, and both contain glucose and fructose. Honey is a rich, golden liquid produced by honeybees. Sugar is man-made, refined and processed into tiny, white grains from sugarcane or sugar beets. Though they can be interchanged in most culinary use, honey and sugar have quite different properties.
History
Honey has served as both food and medicine since ancient times. Beekeeping dates back to at least 700 B.C. For a long time, honey was regarded as sacred because of its rarity and divine sweetness. Its use in cooking was mainly reserved for the wealthy. When sugar was discovered, it quickly became widely available as a relatively inexpensive form of sweetener. Sugar's popularity over honey continues to this day. Sugar is the main ingredient in many soft drinks, and it is called for in numerous recipes.
Features
A single tablespoon of refined sugar has 46 calories, and 1 tbsp. of natural honey has 64 calories. At first glance, you would assume that sugar would be the dieter's choice, but a closer look into the properties of the two sweeteners can reveal something more.
Function
Honey is sweeter than sugar, so you don't need to add as much. Also, using honey instead of sugar might cause you to consume fewer calories overall because of its lower glycemic index. A lower glycemic index means that honey is absorbed and infused at a more gradual rate than sugar into the bloodstream, keeping blood-glucose levels steady. Sugar, with its higher glycemic index, can cause blood-glucose levels to spike, which can lead to overeating.
Significance
Because of its lack of vitamins and minerals, sugar can lead to obesity and high cholesterol. Vitamins and minerals work to metabolize undesirable cholesterol and fatty acid in the body; when they are lacking, higher cholesterol and fatty acid are the result.
Considerations
While it is not good to have too much honey or sugar in your diet, raw, natural honey that has not been processed with heat can have many antioxidant and antimicrobial properties that are important for good health. A jar of honey might seem like an expensive purchase, but that will make you all the more likely to covet it as in ancient times and not use as much as you would if it were cheap sugar.