Cats are clean, finicky animals, so if yours starts to defecate out of the box, something is amiss. While there are things you can do to try to solve the problem at home, keep in mind that if the issue doesn't get resolved or if the problem worsens, you should schedule an appointment with your vet. The vet can prescribe medication to help solve the problem or recommend a behavioral therapist when necessary.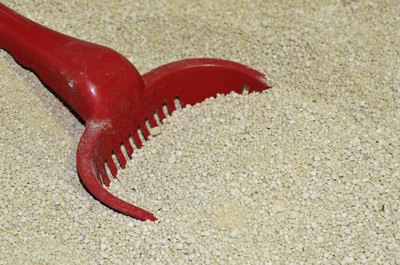 Problems with the Litter Box
A dirty litter box might prompt your cat to go somewhere else when it's bathroom time. This is common if you have several cats but only one litter box or if you haven't cleaned the litter in a while. Your cat might object to harsh urine odors -- especially in a multiple cat household -- or to the texture or smell of the litter. Some likes dislike clumping litter while others prefer it. Switching brands or types of cat litter might lead to house soiling if your cat refuses to use the litter box.
Environmental Issues
While it might sound strange, cats have preferences when it comes to the location of the litter box. Boxes located in a high-traffic area might make your cat uncomfortable, causing him to refuse to use it. Your cat also might refuse to use the box if he's attacked or harassed by another pet while trying to get to the loo. Very dark or damp areas also might be undesirable. Stressors such as moving or bringing a new pet or bringing a new baby into the house also can lead to litter box usage problems.
Medical Reasons for House Soiling
Litter boxes with high sides might be a painful choice for cats with sore joints or mobility problems in general. In addition, a number of other medical issues, including urinary tract infections, intestinal blockages or even bladder stones can make visiting the litter box painful. If that's the case, your cat might prefer to hide somewhere to urinate and defecate. Any of these conditions require a trip to the vet.
How to Deal With the Problem
If you can figure out the problem, try to solve it. For example, change the type of litter or box, move the box to a new location or add extra boxes in different rooms of the house so cats don't have to fight over the same one. Try using a larger size box or switching to a self-cleaning box. Also, make sure you clean the litter daily. If you suspect there's a medical condition or if simple changes don't fix the problem, it might be time to talk to your vet.