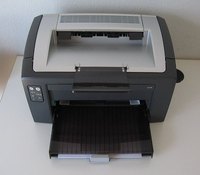 There are many benefits and drawbacks to both laser and solid ink printers. Knowing the technical and financial specifics of both options will help you decide which printer will suit your needs the best.
Benefits of Solid Ink Printers
The ability to print on several paper varieties is just one of the benefits using a solid ink printer. The shape of the cartridges make them simple to install and replace, the print quality is consistently superior to that of a laser printer, and there are many affordable third-party alternatives to brand-name inks. Solid ink printers also tend to be less expensive to purchase and are smaller in size, which makes them easier to transport.
Environmental Benefits of Solid Ink Printers
Solid ink printers are an eco-friendly choice. They reduce waste by using minimal packaging for the cartridges and no ozone is produced by their usage.
Disadvantages of Solid Ink Printers
Despite many advantages to solid ink printers, there are also a number of drawbacks. Since the ink needs to be heated, a considerable amount of energy (approximately 50 watts) is required to run the printer. Additionally, the printed ink isn't very durable. It can be scraped off of paper simply with a sharp edge, like a fingernail, and exposure to direct sunlight for prolonged periods of time can cause fading.
Another disadvantage is that the print heads clog frequently. In order to get the heads unclogged a significant amount of ink is wasted. These printers are also notorious for being noisy and pages printed on an ink printer require time to dry otherwise the ink may smear.
Benefits of Laser Printers
Laser printers are cleaner than solid ink printers. Instead of printing with a liquid, they use a combination of plastic granules that fuse to the paper when melted. Laser printers are also cost effective because the life of a toner cartridge far exceeds that of a solid ink printer. Additionally, laser printers can be connected to multiple computers through a network.
Volume Printing with Laser Printers
A primary advantage of the laser printer is the ability to swiftly print in high volumes. Those who expect to print several thousand pages yearly would save money by opting for a laser printer opposed to solid ink varieties. Despite being more expensive, cartridges for laser printers last longer, producing from 4,000 to 9,000 pages. In contrast, ink cartridges last nowhere near as long, producing hundreds at the most.
Disadvantages of Laser Printers
In contrast to the more compact and lightweight solid ink printers, laser printers are bulky and heavy, making them difficult to transport. This is due to the additional components the printer needs to carry, which includes an imaging drum and laser beam technology. It is also more costly to replace cartridges for a laser printer. Depending on the model, a replacement cartridge can cost anywhere from $50 to more than $200.