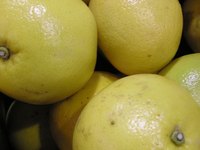 Diet can play an important role in the care and maintenance of a person's overall health. High cholesterol is a common health factor that can increase the risk of heart attack or stroke. Fortunately, we can add foods to our daily diets that actually help lower cholesterol levels.
Fruits
Fruits such as apples, blueberries, grapefruit, oranges and other citrus fruits are high in soluble fiber and pectin, which are both beneficial in lowering cholesterol. According to Foods-that-Heal.com, "In 2004, researchers with the U.S. Dept. of Agriculture reported that in an animal study, blueberries were more effective in lowering cholesterol than the medication, ciprofibrate." The website also cites a 2006 study conducted by Israeli researchers in which "one grapefruit eaten daily for a period of 30 days significantly lowered cholesterol levels by 15 percent." The study also found that red grapefruit is more effective than white.
Vegetables
Like fruits, many vegetables such as beans, carrots and sweet potatoes are high in fiber and/or pectin that produce positive results in lowering cholesterol. According to Foods-that-Heal.com, "A study conducted in Scotland found that people who ate two raw carrots each morning had an 11 percent reduction in cholesterol."
Nuts
Walnuts can significantly reduce cholesterol levels. MayoClinic.com states, "According to the Food and Drug Administration, eating a handful of nuts daily such as walnuts, almonds, pistachios, peanuts, pecans and hazelnuts may reduce the risk of heart disease."
Fish and Omega 3s
The addition of fatty fish to your diet can be helpful in lowering cholesterol due to its high levels of omega-3 fatty acids. Salmon, sardines, mackerel, trout and herring are the best sources. For those who dislike seafood, oils such as flaxseed and canola also contain omega-3 fatty acids. Taking omega-3 supplements is another option.
Oatmeal
Oatmeal contains soluble fiber that reduces absorption of cholesterol in the intestines. MayoClinic.com reports, "Ten grams or more of soluble fiber per day reduces total and LDL (low density lipoproteins) cholesterol. Barley is another good source of soluble fiber."
Significance
According to MayoClinic.com, "Margarines, orange juice and yogurt that have been fortified with plant sterols can reduce LDL (bad cholesterol) by more than 10 percent." Sterols and (stanols) are substances found in plants that can block absorption of cholesterol.