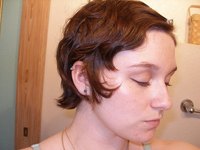 When it comes to short hair, styling isn't usually a necessity. Short hair is flirty, fun and shows off personality. But what about those super formal events? Luckily, there are many ways to tame your otherwise casual bob or blunt cut into something smooth, sleek and beautiful. One of the main tricks for styling short hair formally is to make use of accessories--diamond or rhinestone barrettes, formal flower clips and even a sparkly headband can create a glow of class and glamour. Below are examples of how to pull of a formal up-do, down-do, and a little something in between.
Create a Formal Down-Do
Creating a formal down-do on short hair can sound tricky, since most women with short haircuts leave their hair down anyway. This doesn't mean there isn't a way to fancy it up--it just takes a little hair product and some determination. To glam up your regular short down-do, simply use some styling cream to create finger curls and waves through your hair when it's almost completely dry. Use your fingers to mold the curls in any way you'd like. Don't try to rush this--make sure the curls are completely set before you move on to the next one, using hairspray if necessary. When the curls are all set, add a rhinestone barrette or headband if you want to add extra oomph.

Create a Formal Up-Do
When thinking about creating a formal up-do on short hair, it's best to keep in mind that you will most likely need bobby pins--lots of them. A pack of 100 bobby pins sells for just a few bucks at any local store that carries hair products, so it's best to stock up so you know you'll have enough. When you're getting ready to style, apply a setting cream to damp hair. It's up to you if you want to blow dry or not, but depending on how short your hair is, you may want to style it while damp for easier control. (Your hair will air dry before long anyway.) Use a comb to sweep up two-inch sections of hair before using a few bobby pins to secure them to your head. Repeat until all of your hair is pinned up and away from your face, and mist some hairspray over it to set. To add the magic formal touch, use an accessory such as a flower clip to finish the style.

The Formal In-Between
If you want to create a short and formal hairstyle but aren't sure if leaving it all down or sweeping it all up is right for you, why not try the in-between? Pinning up only sections of your hair and leaving others down in smooth tendrils can be very formal, especially when the tendrils are curled or straightened. And again, a good accessory can complete the touch of class you're looking for in a formal short hairstyle. The possibilities are endless--experiment with pinning up different sections of hair to see what suits your face shape best. When you know exactly what you're going for, you will spend less time worrying about your hairstyle and more time enjoying your formal event.

Upkeep Through the Night
Dancing, toasting, and good old wear and tear will take its toll on any hairstyle through the night. Here are a few ways to make sure your hair do stays sleek and pretty: · Buy travel-size bottles of hairspray or setting cream so you can stash them in your bag. · Also include a comb, a few extra bobby pins, and a small mirror so you can check what the back of your hair looks like as well. · Take a quick bathroom break every hour or so to make sure everything is staying in place. If you notice a flyaway or loosened curl, take a few minutes to fix it before setting with more hairspray.
Practice Makes Perfect
The secret to being able to pull of any great hairstyle is to be very familiar with your own hair type. If you have short hair that is thick, you may not be able to create finger curls or waves as easily and may want to consider pulling some of it back. If your short hair is thin, using bobby pins to pull back all your hair may not be the best idea, since it could appear flat--try creating a stylish down-do complete with curls, which creates volume. Whatever you decide, it's not a bad idea to give the style of your choice a few practice shots before the big night comes. You'll avoid last-minute obstacles and be able to know exactly how it will turn out.