High blood pressure, otherwise referred to as hypertension, is a condition wherein a person's blood pressure is heightened, often to dangerous levels. Blood pressure is defined as the amount of force exerted against the artery walls. High blood pressure can cause damage to the retina, or the area in the back of the eye that is used to focus images. This can is called hypertensive retinopathy, and it can lead to eye pain and eventually a partial loss of vision.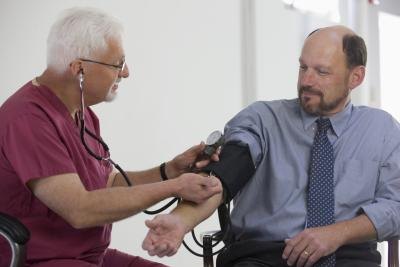 Risk Factors for High Blood Pressure
Although children can have high blood pressure, it is much more common in adults. African Americans and elderly people have a higher chance of having high blood pressure. In addition, taking oral contraceptives, being overweight, excessive alcohol consumption and certain diseases such as diabetes increase the risk of high blood pressure.
Diagnosis
Doctors look for specific symptoms when determining if any eye pain is related to high blood pressure. Additional signs may include bleeding in the back of the eye, narrower blood vessels and fluid coming out of the blood vessels. It may also involve swelling and retinal spots. If eye pain is present, an ophthalmologist will use an ophthalmoscope to examine your eyes and determine the exact nature of the problem.
Measuring Blood Pressure
Blood pressure is measured in two numbers--the bigger one over the smaller one. The top number reveals the pressure produced when the heart beats and is known as systolic blood pressure. The pressure measured in the arteries between heartbeats is known as diastolic blood pressure. A normal blood pressure reading is below 120 mm Hg systolic and below 80 mm Hg diastolic. High blood pressure is considered to be anything over 140/90 mm Hg. Anything between those two readings is called prehypertension.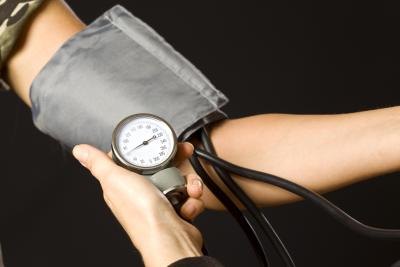 Other High Blood Pressure Symptoms
In addition to having eye problems as a result of high blood pressure, there are a number of other symptoms. Pulsating headaches that occur in the early morning and are primarily located behind the eyes is a sign of high blood pressure, as is confusion, nausea and vomiting. If left untreated for too long, high blood pressure can also lead to chest pain, stroke, kidney failure and abnormal heartbeat.
Treatment and Prevention
The only way to treat and prevent eye pain related to high blood pressure is to work on lowering your blood pressure. The best way to lower your blood pressure is to make sure to exercise more and eat a healthier diet. If any medication is prescribed by a doctor for high blood pressure, it is vital that you take it as directed.