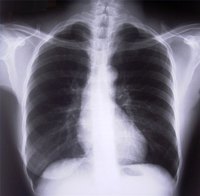 According to the American Lung Association, 400,000 people in the United States alone die of lung disease every year. In fact, the American Cancer Society estimates that lung cancer kills more people each year than any other type of cancer. Learning what causes lung diseases and disorders, how to treat them and how to prevent them will help everyone breathe a little easier.
Causes
While each type of lung disease may have its own unique cause, the Department of Health and Human Services (HHS) points to four common causes of lung disorders. The most common is damage from cigarette smoke, either through smoking or second hand smoke exposure. Radon gas, the second leading cause of lung cancer, is an unknown danger that many are exposed to in their home or place of work. Asbestos, another naturally occurring lung irritant, can lead to lung cancer. Air pollution contributes to lung cancer, asthma and other lung diseases.
Types
When thinking of lung disease, most people think of lung cancer, which occurs when cancerous cells develop and grow in the lungs. Asthma, the chronic disease of the bronchial tubes, is also considered a lung disease, and HHS states that it affects 20 million Americans. Chronic obstructive pulmonary disease (COPD) refers to chronic obstructive bronchitis and emphysema, both of which block airflow out of the lungs. Other types of lung disorders include influenza, tuberculosis and pneumonia.
Symptoms
The symptoms of lung disease vary somewhat between one disorder and the next, but many symptoms overlap. Early stage lung disease saps an individual's energy. Other symptoms include trouble breathing, frequent shortness of breath, lingering cough, coughing up blood in the mucus, pain or discomfort when breathing, inability to exercise and feeling as though the body is being robbed of air. If you are experiencing any of these symptoms, you should seek medical care immediately to determine the cause.
Prevention
Some lung diseases, like lung cancer and COPD, may be preventable. The American Lung Association indicates that smoking is the main cause of COPD and is responsible for 87 percent of all lung cancer cases. If you don't smoke, don't start, and if you do smoke, stop. Avoid exposure to viruses and bacteria that can cause lung diseases like pneumonia by washing your hands frequently. Avoid exposure to other risks like airborne pollutants, toxic fumes, asbestos and radon whenever possible.
Treatment
Nebulizers or inhalers deliver a mist of medication directly to the lungs to relieve the tightness of the chest that occurs when the lungs are inflamed, as occurs with asthma patients. Lung cancer is treated with surgery, radiation and chemotherapy. Some lung disease cannot be treated, but the patient is made more comfortable with the use of supplemental oxygen. Lung diseases caused by infection are treated with antibiotics. For extreme cases of lung disease or inoperable lung cancer, a lung transplant may be the only course of treatment possible.