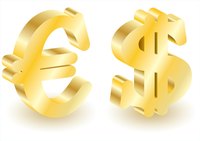 Two of the largest economic blocks in the world are the United States and the European Union. Each region is home to many economic drivers of the world economy. From manufacturing and scientific discoveries to technology, these regions lead the world in business and advancements. The power of currencies in the United States and the European Union reflects the economic strength these regions hold. While the U.S. currency and the euro are both considered relatively strong currencies, there are some basic differences between them.
Age
The euro is a relatively new currency compared to U.S. currency. The euro was first introduced in 1999 as an extension of the European Union's consolidation objectives. U.S. currency can be traced back to 1861 when demand notes were issued, or to 1933 when gold certificates were exchanged for regular paper and coin currency.
Distribution
U.S. currency is recognized around the world and is the primary currency of all 50 United States. The euro is the primary currency in 16 European Union nations and also is widely recognized worldwide. Both currencies are commonly traded by investors and are considered fairly stable currencies.
Regulation
The European Central Bank (ECB) regulates the euro as the central bank for Europe. It works to stabilize and grow the purchasing power of the euro through strategic monetary policy. The U.S. Federal Reserve regulates U.S. currency and controls the distribution and lending rates of currency to banks, depository institutions and loan associations.
Security Features
U.S. currency offers multiple security features to prevent counterfeits. Features include paper that has red and blue fibers, specially formulated color shifting inks, security threads, color, watermarks, microprinting and redesigns every seven to 10 years. Euros also incorporate security features, including raised print, watermarks, security threads, see-through numbers and a shifting image hologram.
Denominations
The euro is available in denominations of 5, 10, 20, 50, 100, 200 and 500 for paper-based currency and 1, 2, 5, 10, 20 and 50 for coins. U.S. currency is printed in denominations of 1, 2, 5, 10, 20, 50 and 100 for paper currency and 1, 5, 10 and 25 for coins. Coins in 50 cent and one dollar units are in circulation, but are not commonly used.