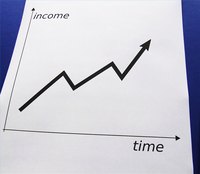 Economics is the study of how limited resources are distributed in society through the concepts of supply and demand. Supply is the amount of a good available and demand is how much of the good is purchased. The price of a good establishes the amount of supply available and the amount of a product demanded. While economics can be explained through high-level mathematics, graphics and statistics, the basic principles of economics echo human behavior. Economics can be made easy when you understand how human behavior is intertwined in monetary decisions.
Trade-offs
Decisions require trade-offs because there are limits on time, money and resources. In order to obtain a good or service, you must give up something in return. You may give up money to purchase food, or you may give up your time and work in exchange for a salary. These choices are made every day and are the foundation of economics. Trade-offs occur at the individual, business and government levels.
Cost
The cost of a good or service is what you give up in order to get it. This principle is known as opportunity cost. Because every item has a cost, you weigh the benefits of the goods versus the cost. Some costs are easy to recognize like the money exchanged to purchase a good, while other costs might be harder to see. For example, the opportunity cost of obtaining an economics degree is not just the tuition and fees, but also the income lost while in school.
Rational Thinking
Economics assumes that all choices are based on rational thinking. It is assumed that people try to make decisions that will offer them the most amounts of benefits for the least amount of costs. Actions based on beliefs, charity and altruistic endeavors are usually excluded from most economic principles.
Incentives
People respond to incentives. If the price of a good drops, you are more likely to make a purchase than if the price of a good rises. If the price of a good rises, it may be an incentive for you to look for alternative products or services that are at a lower price. This incentive process helps establish prices. When a business has excess supplies, it may drop the price to sell more goods, but if it has a limited supply, it will raise the price to gain more money off each sale. This ebb and flow of prices is the foundation for a market-based system.
Efficiency
Economics assumes that markets work best when external pressures and rules are minimized. This principle is especially relevant for government interference in the economy. Tariffs, taxes and other government-imposed limitations hamper the free-flow exchange of money and goods. When these artificial barriers are in place, it can disrupt the normal balance of supply and demand.