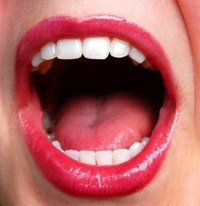 Pain is the body's way of letting the person know that something is wrong. When a person is experiencing tooth and gum pain, it can not only produce intense discomfort, it can also signal a problem with oral health. When symptoms are treated without diagnosing a root cause, tooth and gum pain may worsen and the underlying condition causing the pain festers, and in some cases, causes permanent damage.
Dental Injuries
Some tooth and gum pain results from dental injuries. When a person is participating in sports or is eating hard foods like popcorn or ice, it's possible to break a tooth or knock one out. Sometimes the tooth can be saved if it's treated promptly. Immediate dental attention is needed. In the meantime, if a dental injury is causing tooth or gum pain, the patient can take over-the-counter oral pain relievers as directed, but should not put tablets directly on the tooth or gum. To prevent dental injuries, wear a mouthguard during sports, take care when eating crunchy foods, and avoid using teeth as a tool.
Tooth Decay
Tooth decay is caused by a thin layer of bacteria called plaque which forms on teeth and wears away enamel. Eventually dental cavities form, which sometimes present no symptoms, and sometimes create tooth or gum pain. Dentists treat tooth decay by filling the tooth. Prevent dental cavities by eating a healthy diet, cleaning teeth and between teeth daily, and going to the dentist for regular cleanings and checkups. Sealants applied by a dentist, especially on back teeth which are hard to reach for cleaning, help prevent cavities by protecting the teeth.
Gum Disease
Gum disease, also called periodontal disease, causes pain and bleeding in the gums, and sometimes persistent bad breath. Early gum disease, or gingivitis, can be treated before leading to a more serious condition, periodontitis. If untreated, periodontitis leads to tooth loss or drifting permanent teeth. To prevent gum disease, stop smoking, treat underlying medical conditions like diabetes effectively, brush and floss teeth daily, and receive regular dental checkups and cleanings.
Abscessed Tooth
A tooth with an abscess has an infection, caused by decay or injury to the tooth, that causes pain in the tooth itself, and sometimes the surrounding teeth, jaw and gums. The infection is treated with a root canal (endodontic therapy), and oral antibiotics. Although in years past, an abscessed tooth would need removal, today's root canal treatments save the majority of abscessed teeth. During a root canal, the dentist or endodontist removes the nerve or pulp of the tooth, and then cleans and seals the empty channel of the tooth. Left untreated, an abscessed tooth needs removal and can damage the jaw bone.
Bruxism
Bruxism, or teeth grinding, causes tooth and gum pain, as well as headaches and jaw pain in some patients. Due to stress or other reasons, some people grind their teeth at night while sleeping, and over time, this harms the teeth and gums in addition to causing discomfort. To treat bruxism, your dentist may prescribe a mouthpiece to be worn at night, muscle relaxants, or sometimes psychological therapy to help the patient deal with underlying stress that may be causing the grinding.