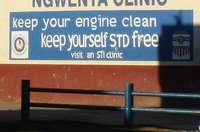 Venereal diseases, also known as sexually transmitted diseases, can lead to many complications if left untreated. Some people contract venereal diseases and never experience early symptoms, which can increase the risk of developing later health problems and spreading the illness to partners. For that reason, it is important to respond to any possible symptoms of venereal disease as soon as possible.
Genital Discharge
Genital discharge is one of the most common and easily detected symptoms of a venereal disease. Unusual secretions from the penis or vagina are usually noticed immediately, particularly if the discharge is thick or odorous. For some women, vaginal discharge is a normal occurrence. However, a sudden change in the consistency or color should be brought to the attention of a physician.
Difficulty Urinating
Pain or a burning sensation may develop when a person contracts a venereal disease. Chlamydia and gonorrhea can both cause urinary discomfort. However, this symptom can be easily mistaken for another condition, such as a urinary tract infection. This is why it is important to consult a physician immediately if urination becomes uncomfortable.
Rash & Sores
A skin rash may develop anywhere on the body when a venereal disease is in its advanced stages. According to the Mayo Clinic, however, a painless cluster of sores can appear on the genitalia as early as a few days after contracting an illness. Rashes and sores may come and go, even without treatment. However, they should not be ignored, even if they have seemingly healed on their own. Without treatment, complications can occur with these skin complaints, such as open and infected sores.
Pain
Venereal diseases can cause pain in several ways. Pain while urinating and painful skin conditions may develop at any stage of the illness. Some men and women may feel soreness in the abdomen. In advanced stages of a venereal disease, intercourse may become painful. Both men and women may have trouble performing sexually due to a venereal disease's accompanying groin pain.
Fever
Since many conditions can cause a fever, this can be an overlooked sign of a venereal disease unless it is accompanied by other symptoms. Sometimes, flu-like symptoms may develop along with a fever. As always, a physician should be consulted immediately in the event that a high fever develops. Those who have already been diagnosed with HIV will also want to carefully monitor any sign of a fever, as it could be a sign of a related infection or a secondary venereal disease.
Serious or Fatal Illness
Early warning signs of a sexually transmitted disease include skin eruptions, painful urination and discharge. However, a venereal disease in its advanced stages may cause even more serious conditions. According to the Centers for Disease Control (CDC), chlamydia is increasingly common and can lead to reproductive complications or even death if it goes untreated.
HIV, which lowers the body's immune system, makes a person more susceptible to any infection and communicable illness. Even syphilis, which is completely curable in its early stages, may result in death if symptoms are ignored. With regular visits to the physician and a quick response to any venereal disease symptoms, serious illnesses can be kept to a minimum.