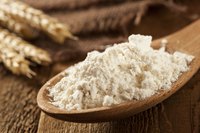 If you like to bake and you're looking for an alternative to your usual whole-wheat flour, you may want to consider trying spelt. It has a nutty flavor and is a close relative to wheat, which means it makes a good substitution in recipes that use whole-wheat flour. Although there are some nutritional differences between the two flours, neither of them is gluten-free.
Calorie Differences
Spelt flour can help you save a few calories. A 1/4-cup serving of spelt flour contains 120 calories, while the same serving of whole-wheat flour contains 140 calories.
Twenty calories may not seem like much, but shaving off a few calories here and there can add up if you're trying to lose weight or maintain a healthy weight. Decreasing your daily intake by 250 calories every day for a week can help you lose 1/2 pound weekly, according to FamilyDoctor.org.
Carbs and Fiber
Both flours are whole grains, which means most of their calories come from carbs, and they each contain fiber. A 1/4-cup serving of spelt flour contains 22 grams of carbs and 4 grams of fiber. The same serving of whole-wheat flour has 27 grams of carbs and 5 grams of fiber.
Both flours are a good source of fiber, but if you're trying to get more fiber in your diet, you might be better off with the whole-wheat flour. Most Americans already have a difficult time getting fiber in their diet, according to the Academy of Nutrition and Dietetics. Including foods that boost your intake may help lower your risk of chronic illnesses such as heart disease and diabetes.
Comparing Protein and Fat Content
There are also slight differences in fat and protein in the two flours. A 1/4-cup serving of spelt flour contains 1 gram of fat and 4 grams of protein, and the same serving of whole-wheat flour contains 0.5 gram of fat and 6 grams of protein.
If you're allergic to wheat or gluten, spelt is not a recommended replacement grain, according to Food Allergy Research and Education. Spelt is too close a relative to wheat and contains gluten.
A Look at the Micronutrients
Both spelt and whole-wheat flour contain the same amount of iron, meeting 8 percent of the daily value in a 1/4-cup serving. Iron is an essential nutrient, and some people have a difficult time meeting their needs, including children and premenopausal women. You need iron to help hemoglobin carry oxygen in your body. It also promotes normal cell function, is necessary for growth and development and is needed to make some hormones.
Whole-wheat flour also contains a small amount of calcium, meeting 2 percent of the daily value in a serving. Spelt flour, however, is not a source of calcium.