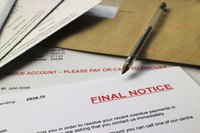 When debts become unmanageable, bankruptcy becomes an option. In a personal bankruptcy under Chapter 7, the debtor surrenders his non-exempt property, which is then sold in order to pay creditors. In exchange, the court releases the filer's obligations to pay any remaining dischargeable debts. In a Chapter 13, the debtor agrees to a partial repayment schedule stretched over several years. In all bankruptcies, the law protects debtors from collection actions by creditors, including payday lenders. .
Dischargeable Debts.
The bankruptcy rules cover the type of debts that can be discharged in bankruptcy. While some debts, such as federally guaranteed student loans, can't be discharged, the law does allow the discharge of payday loans. In the language of bankruptcy law, these loans are unsecured, non-priority claims, and stand last in line for repayment after secured and priority claims.
Lender Objections
There are exceptions to every rule, including those covering dischargeable debts. If you take out a payday loan just before filing for bankruptcy, the lender may object to the discharge, on the grounds that you intended to claim bankruptcy and applied for and accepted the loan in bad faith. If that loan was the latest in series of payday loans taken out to pay the exorbitant interest and fees associated with such products, however, the court may rule against the lender and find the debt dischargeable.
Legal and Illegal Loans
Payday lending is not legal in every state. New Jersey, for example, caps interest rates on all loans at 30 percent, which in effect bars the payday lending industry from setting up shop in the Garden State. If the loan was contracted over the Internet to avoid state law, it still may be illegal. A bankruptcy court is not likely to find a loan banned by state law to be a valid, non-dischargeable debt in bankruptcy.
Post-Dated Payday Loan Checks
A debtor who has written a post-dated check to a payday lender, and then declared bankruptcy, must take steps to make sure the lender won't cash the check. Although the court will issue an automatic stay to prevent collection actions, the payday lender still has access to the bank account information. It may be possible to stop payment on the check, or close the bank account. If the check is cashed, or an automatic withdrawal taken, the debtor will have to file a claim against the lender for repayment.