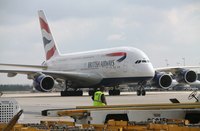 If you thought British Airways was the only airline operating out of the United Kingdom, think again. Smaller local carriers and low-cost budget airlines based there give the national airline competition.
British Airways
British Airways is the UK's national airline, with service to all continents. According to the UK's Civil Aviation Authority, British Airways offered more seating capacity than any other UK airline as of 2013. Its main hub is based in London's Heathrow Airport and it also runs out of Gatwick Airport. According to the British Airways website, the airline flies to more than 170 destinations in 70 countries as of 2014 and serves more than 40 million passengers a year.
BMI Regional
BMI Regional provides domestic UK and European flights featuring small jet aircraft such as the Embraer 145. It was the UK's most punctual airline as of 2013, according to flightontime.info. BMI Regional is owned by Sector Aviation Holdings Ltd. and is headquartered in Aberdeen and East Midlands Airport. Its website publishes the latest one-way "lowest fares" for flights within and between Europe and the UK.
Flybe
Billing itself as "your local airline," Flybe specializes in cheap flights to Europe and within the UK. According to its website, when Flybe's Rewards4all was launched in 2007 it was the UK's first low-cost customer loyalty program open to all passengers. As one of the largest European regional carriers, Flybe has established partnerships with Embraer to expand its fleet and with Air France through codeshare agreements. It won the Air Transport World Regional Airline of the Year in 2009.
Easy Jet
Among budget airlines based in the UK, Britain's Easy Jet is Europe's second-biggest low-cost carrier behind Ireland's Ryanair, according to global awareness website Nations Online. Easy Jet serves domestic and international flights throughout Europe, North Africa and Western Asia. As of 2014, it operates 600 routes in more than 30 countries with a fleet of over 200 Airbus aircraft. Its industry awards include the best short-haul airline by Business Travel Awards in 2014.