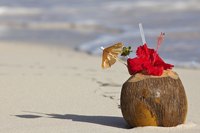 At its most basic, the term "all-inclusive" means that you pay just one flat rate for all the amenities you'll enjoy while staying at a vacation resort. That's naturally going to include your hotel room, and sometimes includes your flights as well. It might also include most of the basics you'll need, though the exact details of what you'll get will depend on the resort.
Food Buffets
Staying in a hotel means you're usually obliged to eat out for every meal. That's one of the biggest conveniences that comes with an all-inclusive resort: You no longer have to shell out cash every time meal time comes around. In most cases, the food you'll get is served buffet style. Some resorts have theme nights, such as "barbecue night," peppered throughout the week, while others have similar offerings meal after meal. For that reason, there's a chance you'll want to eat away from the resort a few times during your vacation.
Bar Drinks
In many hotels, the mini bar in your room is a high-priced luxury. In all-inclusive resorts, however, it's often included in the price. Likewise, drinks from the hotel bar are free. Some resorts restrict the types of liquor you can get to the cheaper bottom-shelf fare; if you want the quality liquor, be prepared to pay extra.
Some Activities
Activities and amenities are often included with the all-inclusive price as well. Depending on the resort, you might have access to volleyballs, soccer balls or surfboards, for example, as well as free access to tennis courts and the swimming pool. You might also get a single free lesson or free equipment rental on a limited basis. Also keep in mind that if you have friends who are not staying at the resort but want to come hang out, they may be required to pay a resort fee.
You'll Still Need Cash, Though
Just because you're staying at an all-inclusive resort doesn't mean you're not going to need any money at all. Leaving the resort might require a taxi pickup, and in some cases, eating anything but the buffet means you'll be charged. Resorts might throw in extras such as an airport pickup and dropoff or a free tour, but keep in mind that the people who are operating those vehicles or running those tours might still expect a tip. Likewise, your bartenders, housekeepers and other service staff will be glad to receive tips. Before you book any all-inclusive deal, read the fine print to ensure you don't have any surprises.