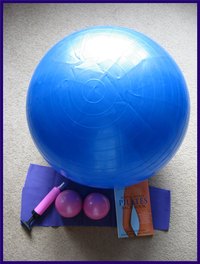 A bulging disk can be an extremely painful, debilitating condition of the lower back that occurs when a spinal disk bulges through a crevice in the spine. Exercise is just one component of bulging disk treatment, which also may include rest, pain medications, chiropractic manipulation, physical therapy and steroid injections and surgery, but it is an important one. Only the right exercises, done with physician supervision, can help with recovery.
Significance
Like any spinal disk problem, a bulging disk can be very stubborn to heal. Bulging disks can cause severe pain, weakness and neurological issues, such as loss of bladder and bowel function. They are a common cause of disability. People who suffer the effects of a bulging disk severely or over a long period of time may require spinal surgery. Exercise is a critical component of a conservative treatment plan that could help the sufferer return to normal function and avoid surgery.
Types of Exercise
There are several types of exercise that might help heal a bulging disk. Gentle stretching and strengthening exercises, yoga, bouncing on an exercise ball and low-impact aerobic exercise, such as walking and swimming, are among the types of physical activity a professional might recommend as part of bulging disk treatment.
Effects of Exercise
In general, exercise can promote healing of a bulging disk by moving oxygen and nutrients into the disk. Gentle stretching can improve circulation to the lower back to further healing, while targeted strengthening exercises can build up supporting core muscles to compensate for injury to the specific area and prevent recurrence. Bouncing gently on a therapy ball also can promote the exchange of fluids and nutrients that creates a more healing environment within the spine. In addition, aerobic exercise generates the release of endorphins, the body's natural painkillers.
Misconceptions
Many back pain sufferers feel like crawling into bed---and staying there. However, while it may seem counterintuitive, physical activity typically lessens the pain of lower back injuries like a bulging disk, while inactivity can make matters worse. Regular movement and back exercises are needed to nourish and strengthen the back for healing.
Warning
Your doctor or physical therapist should develop an individualized program based on your unique situation. Some exercises can aggravate certain types of back pain, and a trained professional can help you avoid these.