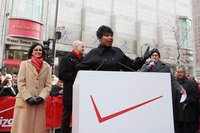 It's hard to find another stock with such a storied history as Verizon. The stock is a reflection of groundbreaking mergers and a public policy that unfolded over a series of decades. It traces back to the legal monopoly of AT&T's Bell System, which separated in 1984 to form seven "baby bells," including Bell Atlantic. And while the stock isn't immune to economic and market downturns, Verizon has kept returning shareholder value a top priority.
Company History
Before Verizon Communications traded, it was known as Bell Atlantic. Verizon's stock debuted in 2000 after the merger of two former telecommunications kingpins Bell Atlantic and GTE. Legislation surfaced to support competition, which led to the formation of Verizon Wireless, a joint venture of Bell's, GTE's and Vodafone's wireless businesses. In 2014, Verizon Communications paid $130 billion in cash and stock to acquire the 45 percent position in Verizon Wireless it didn't already own from Vodafone.
Ticker, Exchange and Indexes
The company trades under the ticker VZ, which symbolizes speed. It made its debut on the New York Stock Exchange in July 2000 and in March 2010 joined the Nasdaq. In 2004, Verizon was added to the Dow Jones Industrial Average as one of 30 stocks trading on the index. Upon its formation, Verizon became a component of the S&P 500 index, replacing the former Bell Atlantic.
Shareholder Value
Verizon distributed a dividend even through the Great Recession of 2008 and 2009. It actually increased its dividend payout each year in a seven-year stretch that ended in 2013. The payoff went from $1.67 to $2.09. Verizon's participation in share buybacks, which increases earnings per share, was waning in the months surrounding its Verizon Wireless purchase from Vodafone as the company opted to pay down debt.
Returns and Valuation
Verizon's stock has seen its share of peaks and valleys. Following the burst of the tech bubble, shares fell from IPO levels of about $55 to a low of about $27 in 2002. The stock eventually rebounded but fell to similar levels throughout the financial crisis in the last half of the decade. It rebounded again in 2010, and either rose or held steady through 2014. The stock was considered pricey in 2012, but by 2014 it was inexpensive compared to the S&P 500 index.