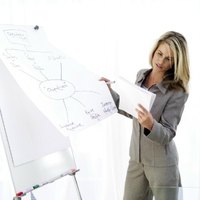 The United States has 15 million to 20 million sole proprietors. The IRS defines a sole proprietor as someone who owns an unincorporated business by herself. If an individual files an LLC (Limited Liability Corporation) on their business, he is not considered a sole proprietor if he elects to treat the LLC as a corporation.
A sole proprietor assumes all the liability for the business. This liability includes all the profits and losses of the business. There are four main classifications for of sole proprietors.
Direct Sales Representative
A direct sales representative is responsible for selling product directly to the consumer. Sales are made using face-to-face and home party methods. The sales representative will sell to the consumer, then get the product from the manufacturer or producer's facility. Types of direct sales representatives: Avon, Pampered Chef, Home and Garden Party LTD.
Service Business
Service businesses provide labor in some form to individuals or other businesses. Although not all service businesses are sole proprietors, many sole proprietors sell their abilities as labor directly to other businesses or consumers. Examples of service businesses: day care, freelance writer, accounting services, landscaping, construction/contractors, cleaning, flower shops, wedding planner, personal organizer/assistant, computer support and repair.
Manufacturing/Other
Examples of sole proprietors who operated manufacturing and other types of business: temporary employee supplier, crafts manufacturer, tailoring/sewing, embroidery, specialty clothing for businesses.
Independent Contractors
An independent contractor offers his or services for hire to business. The person who pays for the service does not control his services. Independent contractors may fall into the services or manufacturing classifications for sole proprietors. Other examples include computer programmers, database designs and management, website design, or medical billing and coding specialists.
Married couples who operate a sole proprietorship
For income tax purposes, when both spouses materially participate in the business this is a partnership. Only one of the spouses will receive credit for Social Security and Medicare if the business used a Schedule C for income tax reporting.
Married couples may chose to treat the business as a qualified joint venture. The Small Business and Work Opportunity Tax Act of 2007 (Public Law 110-28) permits a married couple to elect not to treat the business as a partnership.
A husband and wife may treat the unincorporated business as a qualified joint venture if "they file a joint return and are the only participants in the business; both materially participate in the operations of the business; and each spouse agrees that this is not a partnership."
Using the qualified joint venture, both spouses reports their share of income and expenses and receive credit for Social Security and Medicare.