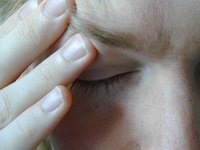 It is often best to use a natural cure rather than a medicinal cure for any of your ailments that you can. Your body reacts much better to natural methods, and some natural methods over time even act as preventative measures. A bad headache can cut your day short and ruin your plans, which is very frustrating. And those suffering from chronic headaches are doubly frustrated. Here is a list of foods you can eat to help ease the pain of a headache.
Apples and Bananas
Apples are rich in flavonoids, chemical compounds found in some plants that have been shown to lower blood pressure, which can in turn help alleviate stress symptoms such as headaches. If you can handle the taste, apple cider vinegar has also been shown to be a good remedy for preventing headaches.
Bananas are a great way to ease a headache, and are also a good preventative food. They are very high in magnesium, which has been shown to lower the chances of a headache and prevent the onset of symptoms. Magnesium is also very calming, which can be helpful for tension headaches. Bananas are also high in potassium, and low levels of potassium can cause headaches, so it is also a good preventative remedy for that reason.
Tea and Coffee
The next time you have a headache, consider sipping a cup of tea. All types of tea contain antioxidants called catechins, which are released when the tea is steeped, and they help remove toxins in your system, which can alleviate the pain of a headache. Ginger is a good anti-inflammatory substance, so you may try sipping a ginger tea.
Coffee can also be a good way to shake a minor headache. Just a half cup can be beneficial; the caffeine helps alleviate the pain. Some over-the-counter medicinal headache remedies actually contain caffeine. However, caffeine should not be a remedy for migraines or other serious headaches, because it can actually increase symptoms for major headaches. Also, don't drink too much, or it could cause a "caffeine crash" a short time later, leaving you feeling bad again.
Omega-3 Fatty Acids
Eating a diet rich in omega-3 fatty acids is a very good preventative measure, especially for migraines. Omega-3 fatty acids also provide a wide range of other health benefits for the brain, heart and blood, so including them in your diet is a good idea. Foods that are high in omega-3 fatty acids include walnuts, flax seeds, soybeans, tofu and a lot of fatty fish such as tuna, salmon, shrimp and halibut.
Herbs
Certain herbal supplements have been shown to be very helpful in both the prevention and treatment of headaches. These herbs can be taken as tea or added to food, but many of them also come in a capsule form. Herbs that are helpful for headaches include feverfew, marjoram, basil, rosemary, peppermint and ginkgo. Cayenne has also been shown to help, as it contains high levels of capsaicin, a natural pain reliever.
Water
Water is one of the best preventative cures for headaches. Headaches are often caused by dehydration. Even if you don't feel thirsty, you could still not be getting enough water and may still be dehydrated. The average person should be drinking eight 8 oz. glasses of water per day to stay properly hydrated. You may find that just getting more water will keep headaches at bay.