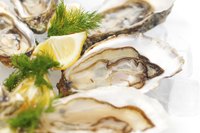 You need zinc for forming proteins and DNA, healing wounds and proper immune function. Men need at least 11 milligrams per day and women need at least 8 milligrams per day. Although zinc isn't very toxic when taken orally, adults shouldn't consume more than 40 milligrams per day or they could experience adverse effects and toxicity symptoms.
Overdose Symptoms
A zinc overdose can cause vomiting, diarrhea, nausea and stomach pain. In more severe cases, it could also cause tightness in the chest, coldness, liver damage, unconsciousness, coma and death. Headache, dizziness, lethargy and irritability can occur as well, although you typically need to consume more than 200 milligrams of zinc per day for any overdose symptoms to occur.
Symptoms of Long-Term High Intake
Getting too much zinc for an extended period of time can interfere with copper absorption, putting you at risk for a copper deficiency that can impair your immune system and cause anemia. Consuming between 50 and 150 milligrams of zinc per day over time may also lower your levels of high-density lipoprotein, or "good" cholesterol, and increase your risk for clogged arteries, as well as impairing pancreatic function and affecting heart function.
Potential for Overdose
It isn't common for people to consume too much zinc unless they're overdosing on supplements. Sometimes this happens when people eat a lot of acidic foods that are packaged in zinc-coated containers. Part of the reason for the limited toxicity risk is because the body doesn't store excess zinc; you need to consume what you need on a daily basis.
Other Considerations
Zinc deficiency is more likely than zinc toxicity, especially among adults over 60, vegetarians, people with gastrointestinal diseases and alcoholics. However, because of the risk for toxicity, only take zinc supplements on the advice of your doctor. Zinc supplements may also interact with diuretics, penicillamine and antibiotics.