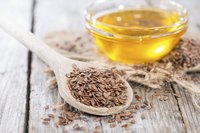 Flaxseeds and their oil make a healthy addition to your diet. Understanding the differences between the two may help you decide which is the better fit for your diet.
Comparing the Nutrition
Nutritionally, there are some significant differences between whole flaxseeds and flaxseed oil, including calories and nutrient content. One tablespoon of whole flaxseeds contains 53 calories, 3 grams of carbs, 3 grams of fiber, 4 grams of fat and 2 grams of protein. The same serving of flaxseed oil contains 124 calories, 14 grams of fat, and no carbs, fiber or protein.
The seeds also contain a small amount of calcium, iron and some of the B vitamins, while the oil is not a significant source of any vitamins or minerals.
Getting Your Omega-3s
The one thing that both flaxseeds and flaxseed oil have in common is that they are both rich sources of omega-3 fatty acids. The whole seeds contain 2 grams of omega-3 fats per tablespoon, and the oil contains 15 grams per tablespoon.
If you eat a 2,000-calorie diet, it is recommended that you try to get 2.2 to 4.4 grams of omega-3 fats daily from sources such as flaxseed, according to a 2010 article published in "Today's Dietitian." Getting more omega-3 fats in your diet may help reduce inflammation and lower your risk of heart disease and arthritis, according to the University of Maryland Medical Center.
That said, it's important to note that most of the positive effects are related to the omega-3s found in fatty fish, the medical center reports.
Health Benefits of Seeds Vs. Oil
The nutritional differences between flaxseeds and flax oil also affect the health benefits. As a source of fiber, flaxseeds help improve bowel function and may be used as a treatment for constipation, according to the New York University Langone Medical Center.
The seeds are also a good source of lignans, which are polyphenols that have some estrogenlike properties. Diets rich in lignans are associated with a reduced risk of heart disease, according to the Linus Pauling Institute.
While flaxseed oil is typically not a good source of lignans, you can find brands that add ground flaxseeds to the oil. This may increase the lignan content.
Using Flax
When it comes to uses, flaxseeds may have more versatility than the oil. The oil is sensitive to heat and light, so you can't cook with it and it must be kept in the refrigerator for storage. You can use the oil in salads or cooked vegetables, or as a dip for bread. The seeds can be added to hot cereal, baked goods, yogurt or salad for crunch and flavor.