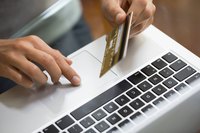 Getting cash back on purchases just for using a credit card is like getting free money for doing something you would already do. And, at least as of publication, you usually don't have to share any of that cash back with the Internal Revenue Service at tax time. However, if you're getting a bonus just for signing up, the IRS will treat that as taxable income.
Discounts Versus Rewards
The IRS views the cash-back rewards you earn from using your credit card as a discount on your purchase, similar to how you pay less if you use coupons, and therefore doesn't count those rewards as taxable income. However, that rationale only applies if you're actually required to do something, such as make a purchase or spend a certain amount in a certain period of time, to earn those cash back rewards. If you get the reward just for opening an account, the IRS considers that an award, which is taxable.